Healthcare Career Training Programs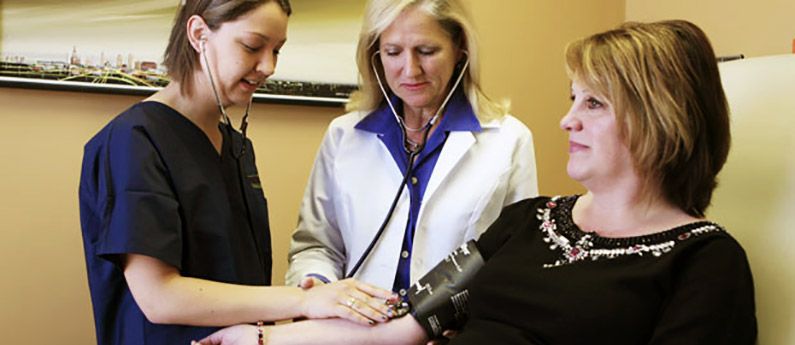 Convenient Part-Time Schedules – Pursue a Rewarding Career Helping Others in 10 Months*
Do you enjoy helping others? Looking for a way to get ahead while you balance family, work and/or other responsibilities?
If that sounds like you, you owe it to yourself to explore the healthcare training opportunities at WellSpring School of Allied Health. The WellSpring healthcare programs are specifically designed to fit the needs of busy adult learners. Get the skills and certification you need to become a qualified medical professional, in a supportive community that understands your needs.
Healthcare Career Training Options
Clinical Office Management

By taking the additional Clinical Office Management training, you would Qqualify for the Medical Office Manager Degree (AOS), AND add a wide range of advanced specializations to your portfolio.

Medical AOS Degree

Advanced Medical Assisting and Clinical Office Management training to prepare graduates to be able to deliver higher level skills that help a medical business operate effectively.
"Employment of healthcare occupations is projected to grow 19 percent from 2014 to 2024, much faster than the average for all occupations, adding about 2.3 million new jobs. Healthcare occupations will add more jobs than any other group of occupations."
– U.S. Bureau of Labor Statistics, Occupational Outlook Handbook**
The fun, online quiz takes 3-minutes to complete and you'll get a personalized report. Identify your strengths and social style plus the training and positions you're best suited for. Get Your Career Training Readiness score now.
To speak with a friendly and knowledgeable Admissions Advisor right away, call 1-877-660-0607.
* Program length when completed in normal time.
**- U.S. Bureau of Labor Statistics, Occupational Outlook Handbook. http://www.bls.gov/ooh/healthcare/home.htm. Bureau information reflects national statistics and may not represent job growth in a specific region.