Medical Assisting School | Kansas City & Lawrence | Medical Assisting Training Program
Medical Assisting Training Program Overview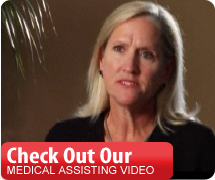 Kansas City & Lawrence
Medical Assisting is the number one hiring position in healthcare and is projected to grow by 34% in the next 10 years. The Medical Assisting training program in Lawrence, KS, and Kansas City, MO offered by the WellSpring School of Allied Health is designed to stand out from the crowd because of our small class sizes and extensive individual attention, and the fact that graduates qualify to earn a triple certification while attending school: the NR-CMA certification, as well as certifications as a ECG Technician, and Phlebotomist.

The training program at our medical assistant school in Lawrence and Kansas City features:
Integrative curriculum
The integrative curriculum, taught by experienced professionals, supports professional competencies of both clinical and administrative skills while emphasizing a human-centered wellness lifestyle.

Extensive hands-on training
Whether it's in the classroom or in our medical laboratory, our faculty engages you with each lesson. During each course, students spend time in the lab partnered with another student, practicing skills, demonstrating a mastery of skills, practicing critical medical procedures and testing one another.
Interactive, highly collaborative classes
In our medical assistant classes, we use a variety of teaching methods: discussions, demonstrations, visual learning, team problem solving and more. This way, each student can get the most out of what he or she learns. We acknowledge and address the unique learning style of each student, and foster comprehension and application of that knowledge.
Full test preparation
At the completion of the program, students will be able to take the Nationally Registered - Certified Medical Assistant (NR-CMA) exam, the Certified EKG Technician (NR-EKG) exam, and the Certified Phlebotomist Technician (NR-CPT) exam. Our job is to make sure you're confident in your knowledge, skills and abilities, and eager to take the test.

Career placement services
We work to help you find the perfect job. This begins with an externship, which is part of the Medical Assisting training program requirements, and extends out to our connections with local medical offices.

Our daytime Medical Assisting training program in Lawrence and Kansas City can be completed in 10 months with classes held 2 1/2 days a week from 8:30 a.m. to 5:30 p.m.. We are currently not offering an evening program.

If you're looking for a quality medical assistant school in Lawrence and Kansas City, then contact our admissions department to learn how WellSpring can train you for an exciting, rewarding career as a medical assistant.
For occupational details on Medical Assisting, SOC - 31-9092, please visit O*NET OnLine.
Continue to » Program Goal
Additional Resources:
Additional Programs: