Upgrade Your Existing Medical Assistant Training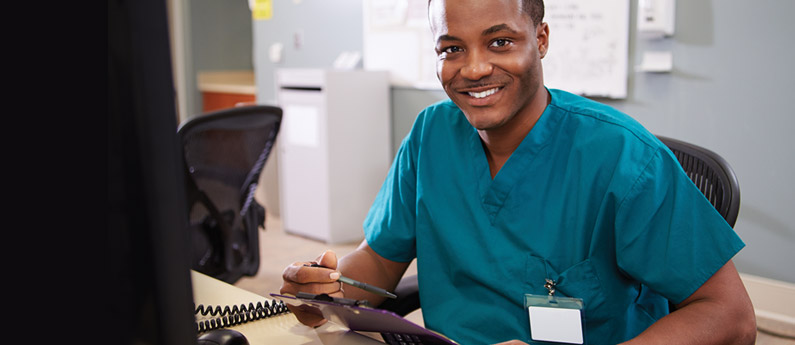 Take our Clinical Office Management Certification and Earn an AOS Degree
If you're a Wellspring Medical Assisting grad, and are already practicing as an MA, you owe it to yourself to consider taking our five-month* Clinical Office Management certification. Call it the next step in your career.  The benefits are significant:
Significantly boost your range of skills
Earn an Associate Degree (AOS)
And the potential to increase your earnings too
Increase Your Career Opportunities
The medical field has grown over the past few years, and is expected to continue this growth trend for the next decade.  As this has happened, there is a growing shortage of mid-level performers who can coordinate and manage general office activities.
As a result, there is a growing opportunity for MAs with the mind-set and the added training who can take-on a greater leadership role within the practice. Adding the Clinical Office Management training to attain your Medical Office Management Degree (AOS) allows you to advance both your training and your career prospects by building on the education you received through our Medical Assisting Certificate Program.
Advanced Medical Office Techniques
This advanced training will introduce you to entirely new tools, including financial performance of the revenue cycle, coordination of the day to day operations of the practice, submitting claims to insurance, and more!
By taking the additional Clinical Office Management training, you would qualify for the Medical Office Management Degree (AOS), AND add a wide range of advanced specializations to your portfolio, including:
Budgeting
Marketing or handling public relations
Fulfilling a human resources role, including hiring staff
Creating procedures for dealing with patients
Overseeing staff
and more!
I was tired of the day to day job that would lead no where, working from paycheck to paycheck. I wanted a career in the medical field where I could help people and feel good about what I'm doing. [At WellSpring] the instructors are knowledgeable and they really do care. They want you to be successful.
Get Hands-On Training & Real World Experience
As a student, you will also benefit from an externship as part of their training, where you'll gain practical real world experience working with clients in a real healthcare environment before you graduate.

Choose From Convenient Day or Evening Schedules
The Clinical Office Management training offers both daytime and evening class schedules, so you can balance your career training with family, work, and other interests. Our Clinical Office Management training features a low student/instructor ratio to maximize the personal attention, and set you up for success.
Get the Support to Advance Your Career
The dedicated Career Services staff at WellSpring will work with you throughout your training and beyond to help you turn your training into a successful career you love.
Experienced Job Placement professionals are happy to help with things like resume preparation, interview techniques and job searches.
Financial Aid is available to those who qualify.
Is Advanced Medical Assisting Training Right for You? Get More Information…
If you're interested in learning more about advanced careers in Medical Office and exploring whether this is the right choice for you, fill out the form on this page and receive more information.
A helpful WellSpring School of Allied Health Representative would be happy to answer any questions you have and help with everything from scheduling to financial aid.
For immediate questions, call us at 1-877-660-0607.
* Program length when completed in normal time.