Get the Skills to Become a Fitness Training Professional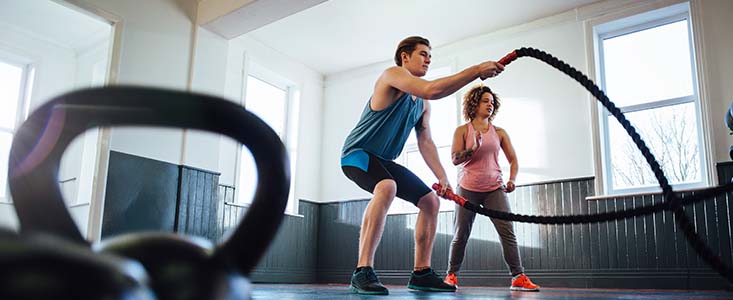 9 Month* Fitness Training Program in Kansas City and Lawrence
Transform your passion for fitness into an exciting new career as a Personal Trainer! WellSpring School of Allied Health's focused Fitness Training Certificate Program, which offers personal training certification in Kansas City, MO, and Lawrence, KS, gives you the hands-on training and mentorship it takes to become a top-tier NASM Certified Personal Trainer.
Sep 23rd

Fitness Training Certificate

: Evening

WellSpring School of Allied Health

(Kansas City, MO)

Nov 18th

Fitness Training Certificate

: Daytime

WellSpring School of Allied Health

(Kansas City, MO)
Become Qualified as a NASM Certified Personal Trainer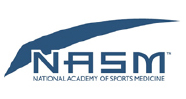 Certification, while not mandatory, has become the measure of a Personal Trainer's value in the marketplace. The more training you have, the more potential you have to earn more and move ahead more quickly.
Different kinds of certifications exist. The National Academy of Sports Medicine (NASM) is recognized by most national fitness clubs as the gold standard in personal fitness training and is the chosen certification partner of WellSpring. NASM certified personal trainers are reported to earn as much as 43% more than the average trainer.
Graduates of WellSpring's Fitness Training Certificate Program are equipped to sit for these two NASM certifications:
The Certified Personal Trainer exam
Corrective Exercise Specialist exam
Get Hands-On Training & Real World Experience
As a WellSpring personal training student, you'll receive hands-on instruction within the interactive and supportive learning environment of our Kansas City and Lawrence branches. You'll also develop your skills helping actual clients during a professional externship in a real fitness setting.
With a blend of technical knowledge and practical real-world experience, you'll have the knowledge and confidence to accurately assess fitness and sports performance clients and to design effective training programs to enable them to meet their goals.
WellSpring's Fitness Training Certificate Program is designed and run by industry professionals who know exactly what it takes to succeed in today's fitness market. You'll receive hands-on guided instruction in a wide range of fitness modalities, including:
Exercise Science Basics
Anatomy & Biomechanics
Introductory Fitness Training
Program Design & Counseling Strategies
Special Populations
Kettlebell Training
Endurance Training
Advanced Training Techniques
Business Skills/Fitness Center Operations
Corrective Exercise Training
Beyond fitness education, you'll get extensive training in general wellness and other longevity enhancement practices to empower you to help clients across many wellness dimensions in their quest for optimal health.
With health club usage at an all-time high, the benefits of working with a certified personal trainer are recognized now more than ever before. Successful graduates of the Fitness Training Certificate Program are prepared for careers in top health clubs, fitness centers, YMCAs, and corporate facilities, as well as private practice.
Many graduates use this training to complement other training and certifications such as massage therapy, physical therapy, athletic training, or chiropractic.
Help Others Achieve Optimum Health & Fitness
At the core of the WellSpring Fitness Training Certificate Program is the exclusive evidence-based Optimum Performance Training (OPT) model developed by Dr. Michael Clark, a physical therapist for the NBA's Phoenix Suns.
Dr. Clark's model integrates the latest information available in all areas of health and wellness, including:
Exercise Program Design
Athletic Performance Consulting
Physical Assessment
Business Systems Education
And More!
Best of all, it works just as effectively for family fitness training as it does for elite professional athletes.
Choose From Convenient Day or Evening & Weekend Schedules
WellSpring's Fitness Training Certificate Program offers both an accelerated daytime schedule and a more flexible evening and weekend schedule, so you can balance your career training with family, work, and other responsibilities. With classes just 2-3 days per week and a low student/instructor ratio, our program maximizes personal attention and success.
Daytime: The Daytime program meets two full days a week from 8:30 am to 5:30 pm. Starting with half days on Fridays and 2 weekends per month for the first module and then one weekend a month thereafter. This program completed in 9 months.*
Evening & Weekend: The Evening & Weekend program meets two evenings per week, from 6:00 pm to 10:00 pm and on average two weekends per month. Weekend schedule and hours may vary. Program completed in 12 months.*
"I realized from talking with other women that there was an opportunity for "older" trainers to work with women who might be intimidated or uncomfortable in the big gym atmosphere. I decided to attend WellSpring and so set out on a new adventure to learn how to help others enjoy the same benefits of exercise that I have experienced. After graduating with CPT and CEX (Corrective Exercise) credentials in December of 2010 I started my own business, HEAL Fitness, LLC and have been enjoying the journey ever since."
– Teri Schrader, Personal Trainer & Corrective Exercise Specialist Graduate

To read additional student reviews, visit our testimonial page.
Broaden Your Career Opportunities with an Associate Degree
Being able to offer a wider range of services can open up more career avenues. In addition to the Fitness Training Certificate Program, WellSpring also offers a comprehensive Fitness & Nutrition Coaching Degree (AOS) Program.
The "Total Fitness Coaching Model" taught in this program gives you the skills to incorporate fitness training, nutrition counseling and lifestyle coaching into a complete package for your clients and offer services that other trainers simply aren't equipped to deliver. See how you can get a competitive edge and take your coaching services to the next level.
Click the link for more information on the Fitness & Nutrition Coaching Degree (AOS) Program.
Continuous Career Support
Our dedicated Career Services staff will work with you throughout your training and beyond to help you turn your training into a successful career you love. Experienced Job Placement professionals are happy to help with things like resume preparation, interview techniques, and job searches.
Financial Aid is available to those who qualify.
Is a Rewarding Career in Fitness Training for You? Get More Info…
Discover whether a career as a Fitness Trainer is the right path for you. Fill out the form on this page to receive more information. A helpful WellSpring Admissions Representative can answer all your questions and help you with everything from scheduling to financial aid.
For immediate questions, call us at 1-855-278-7077
*Program length when completed in normal time