Get the Skills to Become a Therapeutic Nutrition Coach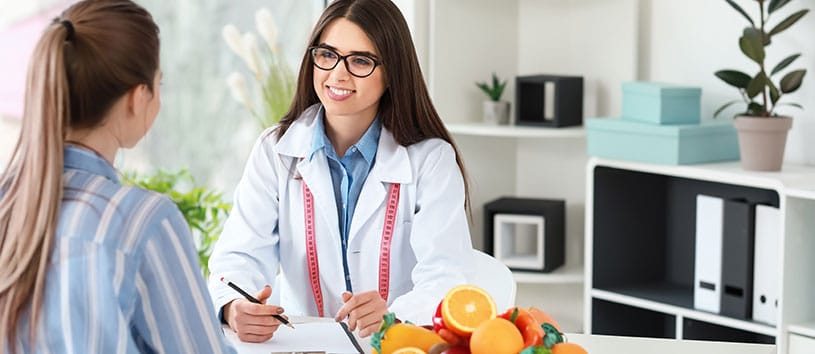 6 Month* Online Therapeutic Nutrition Program
Whether you are a personal trainer, massage therapist, or wellness professional of any stripe, helping your clients get healthier is what it's all about – and WellSpring's Therapeutic Nutrition program can make it happen in just six months*! And the best part is, the program is 100% online, so you can learn from the comfort of your own home… or anywhere you choose!
Wellness professionals understand that changing lives requires educating their clients on what to do, and what to avoid, by managing what they put in their bodies and understanding how these behaviors impact their personal goals.
Enter WellSpring's Therapeutic Nutrition program: Therapeutic Nutrition graduates will be able to help clients implement a plan to make long-term improvements in their lives through the fundamentals of nutrition, meal planning, weight regulation, and stress management.
Becoming a Certified Therapeutic Nutrition Coach
WellSpring School of Allied Health provides all the tools you will need to successfully guide and share nutrition information with established and new clients in your field.
Students will take nutrition and wellness-focused classes, including the following:
Introduction to Nutrition
Nutrition, Metabolism and Weight Management
Nutrition and the Lifecycle
Nutrition Analysis
Nutrition and Disease Prevention
Culture and Nutrition
Stress Management
Internship
Incorporating Therapeutic Nutrition into Your Career
This program is a "best fit" for individuals who are already involved in the health and wellness industry and are eager to expand their services and provide more comprehensive support to their clients, including the following:
Fitness centers
Health food stores
Natural grocers
Massage Therapists
Personal Trainers
Life Coaches
Graduates of this program will be prepared to serve their clients in a variety of health settings, including wellness centers, health clubs, fitness centers, school health systems, hospitals, corporate wellness programs, particularly in support of a Registered Dietician (RD).
Convenience – Take Classes From Anywhere… Any Time!
WellSpring's Therapeutic Nutrition program is delivered via Distance Education. This design fits the needs of busy adult learners so they can balance their training with family, work, and other important responsibilities.
With our accelerated, career-focused curriculum, you won't spend time on irrelevant content that drags out the program or drives up costs. You get the practical, hands-on training you need to achieve your career goals in a convenient, efficient format.
I felt highly confident leaving WellSpring, but also really excited to get started on helping people with their quality of living. So many things that were immeasurable, I felt the education was high quality. I felt the hands-on experience was exceptional, and I felt that I could take care of my clients as well as myself.
To read additional student reviews, visit our testimonial page.
Experience Our Total Health and Wellness Focus
Unlike all-purpose technical schools, WellSpring School of Allied Health has focused exclusively on natural health and wellness career training for over 33 years. Our sole mission is to help you achieve your career objectives in this dynamic and growing field.
Above and beyond technical skills you will acquire, WellSpring training programs provide a solid foundation in general wellness, giving our students a competitive advantage in the marketplace. Whether it is on the massage table, in the gym, in a physician's office, at a medical clinic, or at the dining room table, we strive to create practitioners who can help clients achieve optimal wellness, in all its dimensions.
Is Becoming a Nutrition & Wellness Coach Right for You? Get More Info…
Discover whether a career as a Therapeutic Nutritionist is the right path for you by filling out the form on this page to receive more information. A helpful WellSpring Admissions Representative can answer all of your questions and assist you with everything from scheduling to financial aid.
For immediate questions, call us at 1-855-278-7077
*Program length when completed in normal time.