Gain Advanced Massage Skills and Boost Earning Potential Too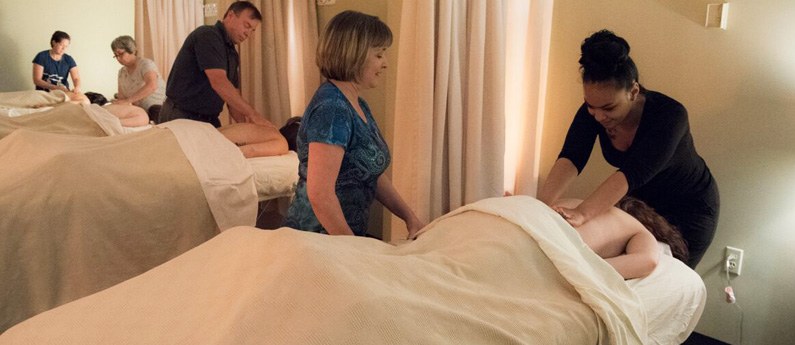 The Integrative Massage Degree (AOS)
If you're a professional Massage Therapist looking to advance your career, or an aspiring practitioner interested in providing a wider range of services, you owe it to yourself to consider taking your career to the next level with an Integrative Massage Degree (AOS).
The massage therapy industry has become much more diversified over the past 15 years, moving from the spa/salon and private club realms to hospitals, hospice centers, Chiropractic practices, fitness clubs, sports medicine and rehabilitation centers.  As this has happened, there has been a growing need for added training that complements these more specialized practice areas.
The Integrative Massage Degree (AOS) allows students to advance both their training, and their career prospects by building on the training provided in either our 800-hr or 912-hour Massage Therapy Certificate Program.
Once enrolled in WellSpring's Massage Therapy Certificate Program students can continue seamlessly into the advanced training module, and in about four months they can graduate with an Associate of Occupational Science (AOS) Degree, and an extensive array of new tools.
Advanced Massage Techniques
The Advanced Massage Techniques Track will delve more deeply into some modalities that were only touched on in the certificate program, and you will also be introduced to entirely new tools, including Oncology Massage, Massage in a Healthcare Environment, and Corrective Exercise Training to name just a few (See full curriculum below).
Besides the added depth of the training itself, students taking this advanced track will come away with a certification as a Corrective Exercise Specialist, earn their Associate of Occupational Science (AOS) Degree, and gain invaluable hands-on experience delivering massage treatments in a medical environment. Areas of study include:
Spa Treatments
Corrective Exercise Training
Movement Modalities
Cranio-Sacral Bodywork
Energy Balancing
Massage in Healthcare
Oncology Massage
In the end, you'll be able to perform at the absolute highest skill levels of expertise in the industry.  And, because you now have those additional letters (AOS) after your name, you will be seen as a more preferred candidate for employment, particularly in the healthcare field.
"What I love the most about being a massage therapist, is that nearly every person who comes to see me is there because they genuinely want to be. In my previous career of being a real estate agent, there was so much tension and stress on the job. In massage therapy there is a lack of stress and a peace that overcomes both client and therapist.People tell me that seeing me is the favorite time of their routines. I love being able to have an entire network of people I know and keep up with while "working". Confucius says, "Find work you love and you will never work a day in your life."
– Julia K. Thomas, Massage Therapy Graduate and Owner of Imagine Wholeness

Get Hands-On Training & Real World Experience
Students will also benefit from an externship as part of their training, where you'll gain practical real world experience working with clients in a real healthcare environment before you graduate.

Choose From Convenient Day or Evening Schedules
The Integrative Massage Degree (AOS) offers both daytime and evening class schedules, so you can balance your career training with family, work, and other interests. As with all our programs, our Integrative Massage Degree (AOS) features a low student/instructor ratio to maximize the personal attention, and set you up for success.
Both the daytime and evening programs can be completed in 16 months*
Until further notice, the Integrative Massage Degree (AOS) is currently available only to students attending our Lawrence, Kansas campus.
*About four more months after completing the Massage Certificate Program
Get the Skills to Launch a Rewarding Career
Advanced massage training is all about getting ahead of the pack in a rewarding career that you're passionate about. The dedicated Career Services staff at WellSpring will work with you throughout your training and beyond to help you turn your training into a successful career you love.
Experienced Job Placement professionals are happy to help with things like resume preparation, interview techniques and job searches.
Financial Aid is available to those who qualify.
Is The Integrative Massage Degree (AOS) Program Right for You? Get More Info…
If you're interested in learning more about advanced careers in Massage Therapy and/or Personal Training and exploring whether this is the right career path for you, fill out the form on this page and receive more information.
A helpful WellSpring School of Allied Health Representative would be happy to answer any questions you have and help with everything from scheduling to financial aid.
For immediate questions, call us at 1-877-660-0607.