Get the Skills to Become a Massage Therapy Professional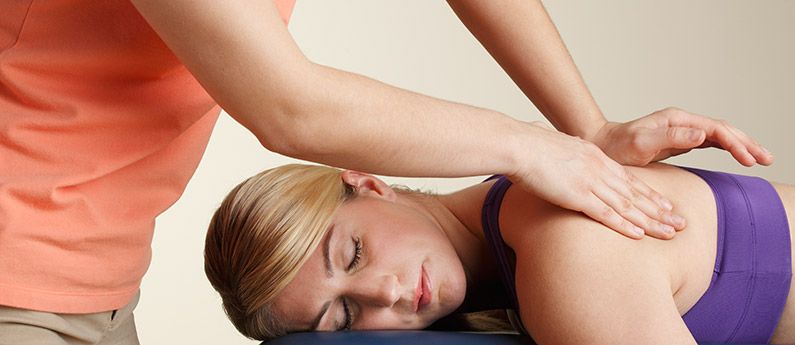 11 Month* Massage Therapy Program in Kansas City, Lawrence, Springfield, and Wichita
For more than 28 years, teaching the art and science of therapeutic massage has been the cornerstone program of our Kansas City, MO, Lawrence, KS, Wichita, KS and Springfield, MO locations. It's just one of the many reasons why 88% of our graduates go on to become Certified Massage Therapists.
Feb 19th

Massage Therapy Certificate

: Daytime

WellSpring School of Allied Health

(Springfield Campus)

Feb 25th

Massage Therapy Certificate

: Daytime

WellSpring School of Allied Health

(Wichita Campus)

Mar 26th

Massage Therapy Certificate

: Daytime

WellSpring School of Allied Health

(Kansas City Campus)

May 20th

Massage Therapy Certificate

: Daytime

WellSpring School of Allied Health

(Lawrence Campus)
What You'll Learn…
WellSpring's Massage Therapy Certificate Program covers a wide range of therapeutic techniques, including:
Swedish Massage
Reflexology
Hydro Therapy
Sports Massage
Perinatal Massage
Massage for Older Adults
Intermediate Massage Techniques
Neuromuscular Massage
Integrative Massage
Hot Stone Massage
Beyond technique, you'll earn a CPR certification and learn the anatomy, pathology, practical communication and business training skills it takes to turn Massage Therapy into a rewarding career.
Get Hands-On Training & Real World Experience
Massage is a "hands-on" career. At WellSpring we strongly believe that's the way it should be taught and learned. As a WellSpring massage student, you'll receive hands-on instruction from experienced Massage Therapists within the interactive and supportive learning environment of our Kansas City and Lawrence branches. You'll also develop your skills helping actual clients during a clinical internship at the WellSpring Student Clinic. With real-world experience before you graduate, you'll feel confident you have the expertise to thrive as you transition from student to massage professional.
Enrich The Lives Of Others & The World
People are increasingly seeking guidance about how to maintain a healthier, more natural lifestyle. Our program goes beyond massage training to include basic wellness curriculum that will empower you to help others live well. As a WellSpring massage student, you receive basic training in general wellness, nutrition, and lifestyle-management skills. Students are also taught when to refer a client to a specialist in these fields. It's all part of the integrative health care model that is the foundation of the educational experience at WellSpring School of Allied Health.
Financial Aid is available to those who qualify.
Choose From Convenient Day or Evening & Weekend Schedules
The WellSpring Massage Therapy Certificate Program offers both a daytime and evening schedule, so you can balance your career training with family, work, and other responsibilities. With classes offered just 2–4 days per week and a low student/instructor ratio, our program maximizes personal attention and success.
Daytime: The daytime schedule consists of 2 full-days (8 hours) per week, either Monday/Wednesday or Tuesday/Thursday. This program is scheduled to be completed in about 11 months.*
Evening: The evening schedule consists of four evening class sessions per week (4 hours each), Monday through Thursday. This program is also scheduled to be completed in about 11 months.*
Become A Licensed Massage Therapist
In the State of Missouri, and most major municipalities in Kansas, Massage Therapists are required to first complete a recognized program like WellSpring's, and then pass the national Massage Board Licensing Exam (MBLEx) to become licensed to practice. At 90%, WellSpring boasts a student pass rate that is well above the 74% national average! You'll earn enough hours to certify in Kansas, Missouri, and most other states across the country.
Embark on a Rewarding Career
With the upsurge in demand for holistic modalities, there is a wide range of employment opportunities for massage professionals. Successful graduates of the Massage Therapy Certificate Program are prepared for careers in massage clinics, spas, resorts, salons, hospitals, wellness centers, medical offices, health clubs, private practice, and much more.
What WellSpring graduates are saying:
"I have had numerous clients ask me where I got my training and said how impressed they were. I have also had many clients tell me that I gave them the best massage they ever had. My books are filling up fast at work and most of them are repeat clients that specifically request me. I love my work and I really feel like I'm making a difference in people's lives."
– Jessica Lugo, 2011 Graduate
To read additional student reviews, visit our testimonial page.
Get the Skills to Launch a Fulfilling Career
Our dedicated Career Services staff will work with you throughout your training and beyond to help you turn your training into a successful career you love. Experienced Job Placement professionals are happy to help with things like resume preparation, interview techniques, and job searches.
Financial Aid is available to those who qualify.
Is a Rewarding Career in Massage Therapy Right for You? Get More Info…
Discover whether a career in Massage Therapy is the right path for you. Fill out the form on this page to receive more information. A helpful WellSpring Admissions Representative can answer all your questions and help you with everything from scheduling to financial aid.
For immediate questions, call us at 1-855-278-7077
*Program length when completed in normal time