WellSpring School of Allied Health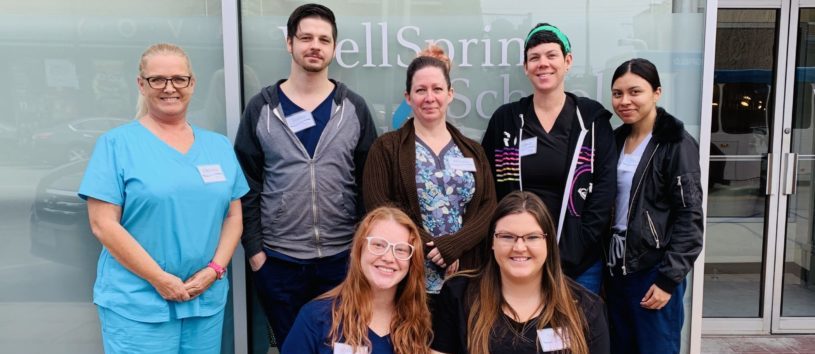 Get the Support You Need to Become a Certified Health & Wellness Professional
WellSpring School of Allied Health was founded in 1988 as the Massage Therapy Training Institute. Starting with just two students in Kansas City, Missouri, the school was born with the belief that a nurturing touch could have a profound effect on the wellness of our society.
For over 30 years, WellSpring has grown from a humble one-room classroom into one of the most diversified and well-respected health and wellness schools in the country. To this day, we continue to believe in in the powers of human touch, and the importance of treating the whole person, not just their symptoms.
Career Training for Your Future
At WellSpring, we understand your desire to serve others and improve overall well-being because that is our desire too. Our goal is to help you get there by providing the tools and the experiences that allow you to find the perfect path for you, and ultimately facilitate a new career that you will truly love going to each day.
Today, WellSpring is recognized as an industry leader in allied health and wellness. We've helped thousands of students learn more than a vocation. They've become true wellness professionals who are highly valued by both employers and clients. We'd love to do the same for you!
Experience Elite Instruction
WellSpring prides itself on the depth and diversity of our curriculum, small class sizes and supportive learning environment. Our greatest strength, however, is our instructors.
All of WellSpring's career training programs are taught by professionals who are not just leaders in their industry, but are also interesting people, with stories to tell about their own journeys in the health and wellness realm. While their paths and experiences are beneficially diversified, they all have one thing in common—a passion for making learning fun.
Experience Flexibility
We are dedicated to providing you with the flexibility, guidance and support you need to balance your career training with family, work and other responsibilities. WellSpring offers two scheduling options. Our daytime schedule allows you to complete your training in the shortest amount of time by attending classes two full days a week. Our evening/weekend schedule allows you to make lower weekly time commitments by attending classes two evenings per week and some weekends.
Experience Ongoing Career Support
WellSpring is invested in the success of our students. Our career services team works with both recent and practicing graduates to provide referrals, job leads and extensive opportunities for continuing education. We'll help you discover the career niche that is just right for you and connect you with preferred employers in the area. While we don't guarantee placement, we are proud of our high job placement rate.
Experience Excellence – WellSpring is an Accredited Institution
WellSpring School of Allied Health is institutionally accredited by the Accrediting Bureau of Health Education Schools (ABHES), recognized by the U.S. Department of Education and approved to operate by both the Missouri Department of Higher Education and the Kansas Board of Regents. The Fitness & Nutrition Degree (AOS) Program is endorsed by the National Academy of Sports Medicine (NASM). The Massage Therapy Certificate Program is licensed by the Massage Board Licensing Exam (MBLEx). Our Medical Assistants are certified through the American Association of Medical Assistants (AAMA).
Together, these accreditations and certifications assure our students of receiving the highest quality training available. They also ensure that your massage therapy, fitness & nutrition, or medical assisting training will be recognized in most states across the country.
Is WellSpring School of Allied Health Right For You? Get More Info…
If you're interested in learning more about careers in Massage Therapy, Fitness & Nutrition, or Healthcare, and exploring if WellSpring is right for you, fill out the form on this page to receive more information.
For immediate questions, call 1-816-523-9140