Kansas City Campus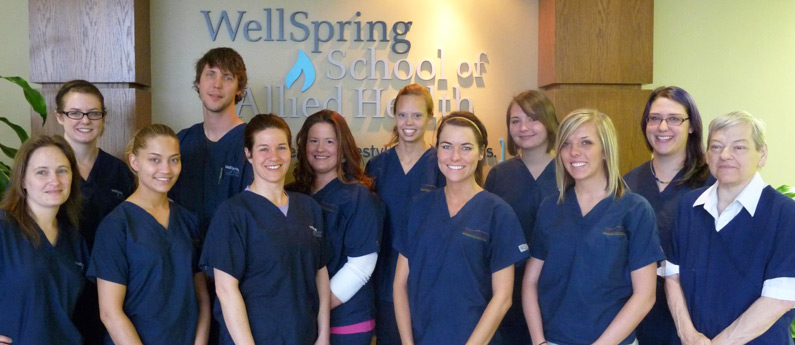 Health & Wellness Training Programs in Kansas, MO
With almost 30-years of history in the Kansas City area, the WellSpring School of Allied Health offers students a full suite of health and wellness education within the expanding field of health and wellness. All of our career training programs are taught by professional instructors who are leaders in their industry.
Known as the "City of Fountains," Kansas City offers big city excitement in a mid-size city that is comfortable, fun and accessible. Kansas City, Missouri is the 40th largest city in the U.S. and has plenty to offer students relocating to the area. From a robust art community, hot jazz clubs, professional sports teams, lively nightlife, to the new Power & Light District. There's no doubt you'll enjoy living in Kansas City as you train for a career health and wellness career.
Career Training Programs Offered
In addition to our Kansas City campus, we offer health and wellness Continuing Education and personal enrichment courses given throughout the Midwest.
Massage Therapy Certificate

Harness the healing power of touch & help others as a qualified Massage Therapist. Get prepared for certification with a hands-on and thorough education.

Master Massage Therapist Degree (AOS)

Become a "Master Massage Therapist" and broaden your employment prospects with the added training offered in our Associate of Occupational Science Degree program.
Fitness and Nutrition Degree (AOS)

Advanced training to become a health, wellness, and fitness expert. Throughout this program, you'll have the opportunity to earn 3 certifications, in addition to an Associate of Occupational Science Degree.
Medical Assisting Certificate

Learn how to assist physicians in the examination and treatment of patients, as well as perform routine office tasks. Hands-on learning during lab classes lets you practice your skills so you'll be ready for your career the minute you graduate.
Medical Assisting Degree (AOS)

Earn your Associate of Occupational Science Degree for advanced Medical Assisting and Clinical Office Management training. Graduates will be able to deliver higher level skills that help a medical business operate effectively.
Is WellSpring School of Allied Health Right For You? Get More Info…
If you're interested in learning more about careers in Massage Therapy, Fitness & Nutrition, or Healthcare, and exploring if WellSpring is right for you, fill out the form on this page to receive more information.
For immediate questions, call 1-855-278-7077