Testimonials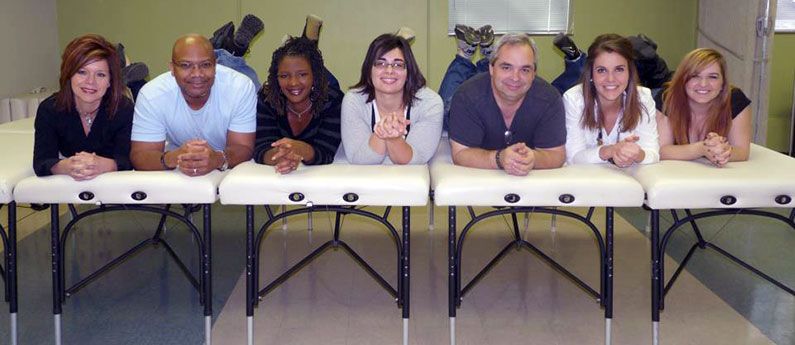 What Our Graduates Have to Say! Read or watch our student & graduate testimonials to hear what our graduates have to say about Wellspring School of Allied Health.
My experience with the staff was really wonderful….I would absolutely recommend family members and friends to pursue a career in numerous areas in the allied health field with WellSpring. The experiences that I've had and the training that I received here at WellSpring have been extremely beneficial and I'm actually looking forward to continuing to work with them.
Personal Trainer Testimonials

I had heard from several people that it was a great program and I knew I could be NASM (National Academy of Sports Medicine) certified with them. Just being certified gives you the confidence and clients respect your opinion knowing you have studied personal training.

For the longest time, I didn't know what I wanted to do with my life…..I wish someone would have told me earlier that I could get a degree in sports!

I realized from talking with other women that there was an opportunity for "older" trainers to work with women who might be intimidated or uncomfortable in the big gym atmosphere. I decided to attend WellSpring and so set out on a new adventure to learn how to help others enjoy the same benefits of exercise that I have experienced. After graduating with CPT and CEX (Corrective Exercise) credentials in December of 2010 I started my own business, HEAL Fitness, LLC and have been enjoying the journey ever since.

My dream was always to be a personal trainer so I went out and purchased my certification online. Upon doing that and with my first client, I suddenly realized I had no clue what I was doing and at that point concluded I needed to go back and learn more. I needed to become more educated, I need more hands-on experience because just getting a certification isn't what makes someone a great trainer.

With a background in special education and a desire for a change, I set out to explore becoming NASM certified as a personal trainer. In my research I found that I could get NASM certified through self-study but with my educational background, knew I would learn far better through interaction and hands-on instruction.
Massage Therapy Testimonials

I must say that I am so happy to be a WellSpring graduate! There has not been one day that I have regretted coming to this school. Everyone here is so lovely and kind and smart. The instructors are the BEST! You can tell they genuinely care about us and our education. I rave about this place whenever I get the chance. When I decided to become a massage therapist and come to this school for my education, I have never been so sure and confident about anything. I have had so many positive experiences here. I am just so grateful and happy! Thank you and everyone in the massage program!! It has been such a pleasure to learn with you.

In the early 90's, I was diagnosed with a disease that the medical profession told me was not treatable. I began a quest to get my health back on track and found many ways to correct my body's imbalance through natural healing. After passing my National Certification; I took a job (the next day) with New Life Massage. The owner was one of our speakers during our business class at WellSpring. He critiqued our resumes and then after class asked me to call him about a job. I have worked for him for almost 2 years and do corporate chair massage. One of the corporations that I work at is Burns and McDonnell, just down the street from WellSpring. I passed it every day on my way to school, never imagining that someday I would work there.

What I love the most about being a massage therapist, is that nearly every person who comes to see me is there because they genuinely want to be. In my previous career of being a real estate agent, there was so much tension and stress on the job. In massage therapy there is a lack of stress and a peace that overcomes both client and therapist. People tell me that seeing me is the favorite time of their routines. I love being able to have an entire network of people I know and keep up with while "working". Confucius says, "Find work you love and you will never work a day in your life."

I narrowed it down to 2 – 3 schools and it turned out, WellSpring was clearly the best choice. The length of the program, for one thing, and the instructors…..the school was more than I expected and the quality of the instructors was outstanding.

The reason I chose both programs is I liked the fact that it would teach me more about my own abilities for my own health and my family's health. And the massage part was helping me to help people relax and take care of their health also. All of the staff is very knowledgeable, everyone had something to offer. I learned a lot from them.

WellSpring has a way of laying a really excellent foundation that not only doesn't limit the directions you can go, but encourages exploration and development of personal style. I had to work around a full-time job and family to achieve my goal of becoming a massage therapist. Because of WellSpring, I had several epiphanies and breakthroughs on a personal level that led me to leave my job and focus on my family and being a student which has been the best career choice of my life (so far). I was surprised by how much I was able to apply so much of what I learned to various aspects of my life. I was also really impress with the attention to detail; like teaching business skills and the importance of self-care.
Medical Assistant Testimonials

I was tired of the day to day job that would lead no where, working from paycheck to paycheck. I wanted a career in the medical field where I could help people and feel good about what I'm doing. [At WellSpring] the instructors are knowledgeable and they really do care. They want you to be successful.

I loved the small class size so there was a lot of hands on all the time. The teachers taught me to explore on my own and present to other students what I learn. I landed my job on the fourth day of my externship. I was ecstatic!

Since February 2017, Nicole has been working as a Certified Medical Assistant at Associated Podiatrists after completing her externship there. Recently, Nicole started teaching in the Medical Assisting at our Kansas City campus.

As someone who spent years in a non-related industry, I was scared to try something so foreign to me. The staff at WellSpring made this experience beyond compare. Their compassion, concern, and dedication to the students is like nothing I was prepared for. I leave here feeling prepared and ready for my new career and adventure. I can't thank them enough. Continue your diligence in education of students, for we appreciate it. TO THE MOON!!