Get the Skills to Become an Advanced Medical Assisting Professional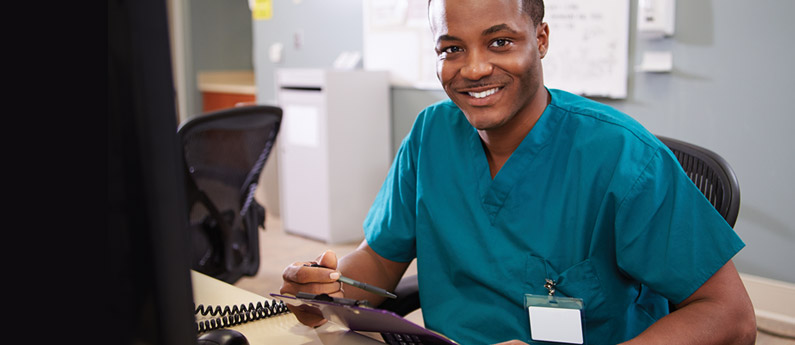 16 Month* Medical Assisting Degree (AOS) Program in Missouri
The medical industry has grown over the past few years and is expected to continue this growth trend for the next decade. As this has happened, there is a growing demand for Medical Assistants who can also coordinate general office activities and manage other employees, in addition to being able to perform the full range of basic Medical Assisting duties.
With a Degree in Medical Assisting, you're likely to have a broader range of employment opportunities because of your expanded education. After gaining some experience, a lot of Medical Assistants advance into leadership or management roles, which brings more responsibilities and higher compensation.
You'll Learn…
The Medical Assisting Degree (AOS) program at WellSpring will equip you with the career-specific administrative and clinical skills required to keep clinics running smoothly each day. You'll receive guided instruction in the following areas:
Medical Terminology
Anatomy & Physiology
Patient Administration
Cardiopulmonary Diagnostics
Pharmacology & Injections
Medical Procedures & Minor Surgery
Emergency Medical Procedures
Phlebotomy
Medical Billing & Coding
Nutrition & Wellness
Clinical Office Management – budgeting, staff training, auditing performance
Human Resource Management – managing staff, including hiring and firing staff
Health Information Technology – learning Electronic Health Records, both in theory and practice
Effective Communications – patient communication, urgency, correspondence, marketing/PR
Students will also benefit from an externship as part of their training, where you'll gain practical real-world experience working with clients in a real healthcare environment before you graduate.
Upon completion of this program, you'll be fully prepared to take the exams required to become a Certified Medical Assistant (CMA). By having your CMA designation, you are immediately a step ahead of applicants without their certification. As soon as you are certified, you will generally enjoy a higher pay scale and better bonuses.
Get the Competitive Edge with Four Certifications
Employers look for certifications when hiring Medical Assistants. The more training you bring, the greater your employment opportunities. Graduates of the WellSpring Medical Assisting Degree are eligible and fully prepared to take four certification exams:
Nationally Registered Certified Medical Assistant Exam
Nationally Registered Certified Phlebotomy Technician Exam
Certified Medical Manager through PHACOM
Certified EKG Technician Exam
Students are eligible to sit for the Certified Medical Manager (CMM) exam upon graduation and will earn a CMM-A designation upon passing the exam. This designation is probationary until 2 years of relevant industry employment is completed. The full CMM designation will be awarded at that time.
My experience with the staff was really wonderful….I would absolutely recommend family members and friends to pursue a career in numerous areas in the allied health field with WellSpring. The experiences that I've had and the training that I received here at WellSpring have been extremely beneficial and I'm actually looking forward to continuing to work with them.
– Eric, WellSpring Graduate
To read additional student reviews, visit our testimonial page.
Choose From Convenient Day or Evening Schedules
The Medical Assisting Degree (AOS) program offers both daytime and evening class schedules, so you can balance your career training with family, work, and other interests. Our program features a low student/instructor ratio to maximize personal attention and set you up for success.
Daytime: The Daytime program meets two full days per week, either on Monday and Wednesday or Tuesday and Thursday, for a total of 16 months.*
Evening & Weekend: The Evening & Weekend program meets two evenings per week, either on Monday and Wednesday or Tuesday and Thursday, for a total of 24 months.*
Continuous Career Support
Advanced medical office training is all about getting ahead of the pack in a rewarding career that you're passionate about. The dedicated Career Services staff at WellSpring will work with you throughout your training and beyond to help you turn your training into a successful career you love.
Experienced Job Placement professionals are happy to help with things like resume preparation, interview techniques, and job searches.
Medical Assisting
16-Month Associate Degree | $37,190 median annual salary***
---
18% Job Growth Over Next 8 Years

Graduates hired by hospitals, physician's offices, & outpatient care centers

4 Certification Tracks (Including CMA and CMM)

Advance into Medical Office Management, Health Information Technology, Nursing and much more!
***https://www.bls.gov/ooh/healthcare/medical-assistants.htm#tab-5. Visited on May 25, 2022. Salary source for medical assistants with lowest 10% earning $29,070 to the highest 10% of workers earning $48,170.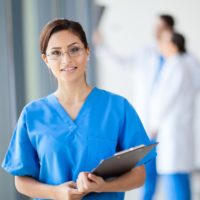 Financial Aid
At WellSpring School of Allied Health, we offer a variety of funding options to help make training possible for students. Student aid and scholarship opportunities, including government funding, is available at our Kansas City, MO, Springfield, MO and Lawrence, KS campuses. Sit down with one of our Financial Aid advisors today.
Financial Aid is available to those who qualify.
Is the Medical Assisting Degree (AOS) Program Right for You? Get More Information…
Discover whether a career in Medical Assisting is the right path for you. Fill out the form on this page to receive more information. A helpful WellSpring Admissions Representative can answer all your questions and help you with everything from scheduling to financial aid.
For immediate questions, call us at 1-816-523-9140
*Program length when completed in normal time.