Get the Skills to Become a Fitness & Nutrition Professional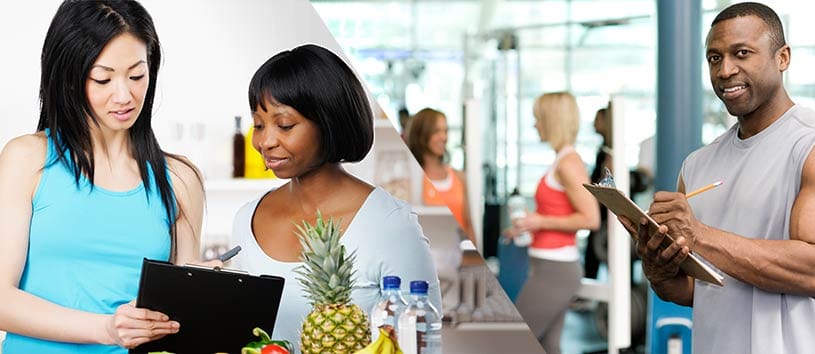 Professional Fitness & Nutrition Career Training Programs in Kansas City, MO
Are you passionate about health and fitness? Interested in the way we fuel our bodies and the profound effect it can have, both physically and mentally? If this sounds like you, then explore the WellSpring School of Allied Health, Fitness, and Nutrition career training programs.
Learn directly from industry experts and get the tools, knowledge, and confidence to help transform lives. Throughout the program, you'll become prepared to get certified. The numbers speak for themselves: 85% of WellSpring degree students pass all three national exams on their first attempt!
Take a look at the programs below and get one step closer to achieving your goals and helping others to do the same.
Fitness & Nutrition Training Options
Fitness and Nutrition Coaching Degree (AOS)

Advanced training to become a health, wellness, and fitness expert. Throughout this program, you'll have the opportunity to earn 3 certifications, in addition to an Associate of Occupational Science Degree.

Fitness Training Certificate

Get the Hands-On Training and NASM Certification to Become A Certified Personal Trainer 1 year or less. Transform your passion for fitness into an exciting new career as a Personal Trainer!

Nutrition and Wellness Coaching Certificate

Turn your passion for nutrition into your life's work. Become a certified Nutrition & Wellness coach in 1 year or less, and help clients to live more balanced, healthy and happy lives.
A Promising Career Outlook
According to the U.S. Bureau of Labor Statistics "Employment of Fitness Trainers and Instructors is projected to grow 10 percent from 2016 to 2026, while employment of Dieticians and Nutritionists are projected to grow 15 percent from 2016 to 2026." These similar trends are likely due to a national concern with improving overall fitness, health, and wellbeing.*
Since businesses, insurance companies, and government are recognizing the benefits of health and fitness programs they are providing incentives to their employees to join gyms or health clubs, driving up the need for Fitness Trainers. Meanwhile, people are starting to acknowledge the connection between a healthy diet and disease prevention and treatment. More Nutritionists will be needed to advise people (or patients) who want to improve their overall health and wellbeing.
Is WellSpring School of Allied Health Right For You? Get More Info…
If you're interested in learning more about careers in Nutrition & Fitness and exploring if WellSpring School of Allied Health is right for you, fill out the form on this page to receive more information.
For immediate questions, call 1-855-278-7077
*Bureau information reflects national statistics and may not represent job growth in a specific region.