Continuing Education Classes in Massage Therapy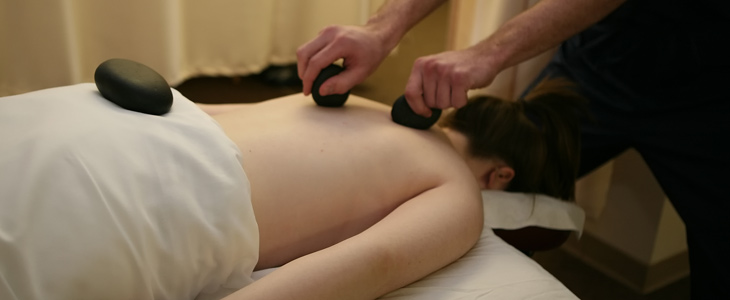 Wellspring's massage therapy continuing education programs are geared towards certified massage therapists and massage therapy students. Each class runs one to two times per year at our Kansas City, MO campus, unless otherwise indicated. Several qualify for professional certification testing.
If there's a subject you're interested in and don't see it below, let us know! We're happy to bring back past classes and always looking to expand our offerings.
Click here for the current Class Schedule!
Aromatherapy
Scent is a powerful and yet often overlooked sense when creating a relaxing and therapeutic environment. In this course, you will learn the properties and uses of some of the most popular and beneficial essential oils. You'll also discover multiple ways to use scent for maximum effect with clients and for self-care.
Burn Scar Massage
Burn Scar Massage is a hands-on experience with actual burn survivors. Develop confidence in your ability to work in a more medical-based massage therapy while heightening your compassion for those that society may deem untouchable. Burn Scar Massage Therapy is taught by Jen Hartley, a Nationally Certified Massage Therapist and burn survivor. Jen is one of only two instructors in the country who teach this modality.
Chan Ri
This technique incorporates the use of the pendulum, aura/chakra clearing and balancing, soul cards, intuitive messages and images, as well as hands-on body work, such as Craniosacral Therapy and Reiki. Chan Ri clears emotional pain from the body through the use of dialog. It helps rejuvenate the soul and restores balance to life by clearing obstacles that may be blocking one's life purpose. In this class you will learn about the body's aura and 7 chakras and their effects on the body. You will also learn how to use a pendulum, soul cards and read the body intuitively.
Chinese Facial Fusion
Chinese Facial Fusion is a relaxing and rejuvenating facial massage that engages 25 pressure points, including 2 on the hand and arm. Techniques are learned and experienced that help tone, uplift, remove tension, reduce facial lines and increase circulation to the face. Facial massage can benefit Bell's Palsy, facial tics, eye droop, sinus problems, eyesight (near and far), TMJ difficulties and may reduce scars.
Certified Infant Massage Teacher Training™
Presented by the Liddle Kidz™ Foundation, Certified Infant Massage Teacher™ (CIMT™) training is a certification course for professionals who care deeply about and are interested in working with families and children. A CIMT is an educator who teaches the art of infant massage to parents or caregivers in the presence of their babies. You do not need to be a massage therapist or have any previous experience in the healthcare field to attend.
Certified Pediatric Massage Therapist Training™
Certified Pediatric Massage Training™ provides educational and professional training for massage therapists and health care professionals who wish to enhance their skill set. In this class, participants learn massage therapy techniques for children with special health care needs, who are hospitalized or have been diagnosed with a terminal illness in hospice care.
Compassionate Touch® Level 1: Massage in Eldercare & Hospice
Compassionate Touch® is a complementary approach to eldercare and hospice. It combines focused touch and sensitive massage with specialized communication skills to enhance the quality of life for people in old age. Enroll in this workshop and you will leave with new skills to serve the growing elderly population with confidence.
CPR & FIRST AID — American Red Cross Format
CPR & First Aid is a comprehensive, practical skills subject that prepares students to respond appropriately and competently in applying adult CPR and first aid in medical emergencies. Content includes one-person CPR with mannequin practice, rescue breathing, emergency action principles, handling internal and external bleeding, burns, injuries and fractures to bones, muscles and joints. Medical emergencies, including heart attack and stroke, poisoning, exposure to extreme heat and cold, animal and human bites, injuries to the eyes and nose, bandaging, splinting and emergency rescues, are also covered.
Craniosacral Therapy
Students of Craniosacral Therapy will be introduced to the membranes and cerebrospinal fluid around the brain and spinal cord that makeup the craniosacral system. Craniosacral Therapy aims to help resolve the trapped forces that underlie and govern patterns of disease in both the body and mind by "listening through the hands" to subtle craniosacral rhythms for patterns of inertia or congestion. With this light touch modality, you can evaluate and treat restrictions in the craniosacral system, offering relief from migraines, autism, central nervous system disorders, chronic neck and back pain, stress, fibromyalgia and more.
Ethics – Creating Clarity in Bodywork
Clear boundaries and ethics are an important part of successful holistic health practice. This class will delve into boundary violations, communicating boundaries, ethics and dual relationships. Through discussion, contemplation and role-playing, you will explore your own boundaries and ethical/moral standards, allowing you to approach your client relations with a greater awareness and sensitivity to these issues.
Healing Touch
Healing Touch is a relaxing, nurturing energy therapy that uses gentle, heart-centered touch to help balance physical, mental, emotional and spiritual wellbeing. It enhances the body's natural ability to heal through the human bio-field, energy centers and energy field. Healing Touch works in harmony with standard medical care and is complementary to other health care systems.
Hot Stone Massage
Learn to blend your massage skills with the benefits of Thermotherapy! Hot Stone Massage uses hot and cold stones to melt away stress and enhance the circulation and healing processes of a therapeutic massage. Allowing the stones to do the work gives the therapist's hands a rest.
How to Thrive as an Empath
Do you struggle with drawing boundaries? Do you lose yourself in relationships? Take on your partner's characteristics, hobbies and emotions? Do you have trouble determining where you end and someone else begins? Can you feel everything? Does the world overwhelm you? Learn the classic signs and characteristics of an empath, including ones that might be a surprise to you. Meet others like yourself and discover how to not just cope in this world, but thrive in your life. What might feel like a burden or flaw is really a gift!
Hydrotherapy
Hydrotherapy is the use of water or fluids as a means of changing the body chemically, physiologically and mechanically. This complementary modality is used universally in many applications, including stress relief, pain management, injury management, reduction of edema, promoting changes in the circulation of the blood and lymph and first aid.
Indian Head Massage
Discover the blissful and gentle relief of an Indian Head Massage! Performed while the client is fully clothed sitting in a chair or as part of a table massage, this technique stimulates pressure points that create deep relaxation and tension relief. It is an excellent addition to a regular office chair massage or for geriatric clients confined to a wheelchair.
Introduction to Kinesiology Taping
Kinesiology Taping has grown in popularity since the 2008 Olympics. Valuable in reducing pain, improving proprioception, increasing circulation and correcting muscle imbalance, it can improve performance and help your client continue to see results after your session, thereby increasing client care and satisfaction. Upon completion of this course, you will be able to perform taping techniques for common postural faults, pain presentations and muscle imbalances in multiple areas of the shoulder, back, upper leg, knee and lower leg.
Introduction to West Coast Massage Techniques (Lessons From Ed)
This class pays homage to one of our long-time WellSpring instructors, Ed Odell. Ed has been a body worker for 21 years and specializes in Esalen Massage. "Lessons from Ed" will introduce you to modalities influenced by Esalen style massage and the work of Dr. Milton Trager of the Trager Approach. You will be taught techniques to nurture the client, utilizing full body length strokes and gentle movement to coax rather than attack the tissue. You will learn to view the client as a palate for playfulness and creativity, enabling the therapist to reach deeper rather than work harder. Therapists with backgrounds in spa work, deep tissue or medical massage will find this class offers invaluable tools they can apply in their practice.
Joint & Stretch
Whether you're a massage student, a professional therapist or looking to enter the fitness profession, Joint & Stretch will help you assess current muscle function, improve range of motion, increase strength, reduce overuse injuries and enhance performance. This course focuses on facilitated stretching, also called proprioceptive neuromuscular facilitation (PNF). You will learn stretches for the lower extremity, upper extremity, neck and upper torso and will be introduced to routines for both specific activities and common soft tissue injuries.
Kinesiology-Based Clinical Massage (for the Upper or Lower Extremities)
Do you know the client's specific concerns and physical problems? Do you and the client have specific goals for the massage? Do you have a plan? Do you have the required skills and tools? How will you know if you have achieved the session goals? A clinically based massage will address all of these questions, using techniques based on biomechanical concepts that address specific musculoskeletal issues. Concepts covered will include pre- and post-assessment, anatomical and kinesiological understanding of the upper extremity, deep tissue techniques, stretching and session planning. Focus will be on restoring normal function and reducing pain for the client.
Lomilomi
Hawaiian Lomilomi Level 1 is a course in the once secret ritualistic bodywork of the Pacific Rim People.This class will introduce you to the historical highlights of the Hawaiian Islands and the discovery of the healing art called Lomilomi. You will be taught the four basic elements of Lomilomi bodywork: pule (prayer intention), mele (chants and rhythms), hula (strokes and choreography of the lomilomi for front and back of body) and ho'oponopono, (the resolution and balance of self with Spirit, family and community). You don't have to be a massage therapist to learn Lomilomi!
Massage & Bodywork for the Cervical Region
Gain an understanding of the basic anatomy of the cervical region. In this class, you will learn how to safely perform massage and bodywork techniques to the cervical region to assist with pain management of cervical injuries and postural deficiencies. Upon completion of the course you will be able to assess, examine, perform and set treatment plans for your clients/patients that will assist them in managing or alleviating head, neck and shoulder pain.
Massage for People Living with Cancer©
Comfort-oriented massage or touch can be safely administered to cancer patients regardless of the severity of their condition. This class will present information and provide experience for massage therapists who wish to work with clients who have been diagnosed with cancer or are recovering from it. The culminating activity of the class will be to give a relaxation massage to someone with a history of cancer.
Myofascial Release
The Myofascial Release approach is a form of soft tissue therapy used to treat somatic dysfunction and resulting pain and restriction of motion. This is accomplished by relaxing contracted muscles, increasing circulation and lymphatic drainage and stimulating the stretch reflex of muscles and overlying fascia. You will learn myofascial release techniques utilizing movement and range of motion.
Myofascial Therapy for Pregnancy-Related Pain Syndromes
Low back, groin and pelvic pain during pregnancy can often be managed or prevented with safe, drug-free treatments. In the Myofascial Therapy for Pregnancy-Related Pain Syndromes workshop you will gain an understanding of the anatomy involved in pregnancy-related pain and learn to set and perform treatment plans for your clients that will assist in alleviating that pain.
Neuromuscular Massage
Based on early concepts of pain relief, Neuromuscular Massage incorporates various tissue manipulation techniques with an emphasis on trigger point therapy. This anatomically oriented, deep tissue, pressure point technique uses the neuromuscular system to balance and normalize muscle function and reduce the pain response. Neuromuscular massage also incorporates stretching techniques to release tissue. In this class, you will learn to relieve pain and increase mobility within muscles that have referred pain indicators. This class utilizes lecture, discussion, demonstration and hands-on techniques.
Post-Isometric Relaxation
How often have you spent excessive time dealing with severe wry neck or patients with emotional-type spasm? Post-isometric relaxation is an effective method for dealing with acute tension in soft tissue problems. A substitute for the stretch and spray technique, it can often reduce a muscular spasm that is responsible for pain and eliminate pain points where a tendon is attached to the periosteum. Post-isometric relaxation is often more effective than other modalities for relaxing tension.
Pranic Healing
Pranic Healing is a highly evolved and tested system of energy medicine that utilizes prana to balance, harmonize and transform the body's energy processes. Pranic Healing is based on the fundamental principle that the body is a self-repairing living entity that possesses the innate ability to heal itself. Pranic Healing is applied on the bio-electromagnetic field known as the aura, or energy body — the mold or blueprint that surrounds and interpenetrates the physical body. Physical ailments first appear as energetic disruptions in the aura before manifesting as problems in the physical body.
Qigong
Massage and qigong are two complementary approaches to bodywork. Qigong balances the flow of energy, blood and body fluid from the inside, and massage strengthens the flow from the outside. Qigong uses intention and particular body movements to guide the qi (or life force) in healthy directions, while the physical pressure and body manipulation of massage help to do so from the outside. Taoist masters and early Chinese medicine practitioners used this internal-external approach to balance the body and harmonize the interior and exterior. In this class, you will learn how to visualize the movement of qi,feel it flow in the body and use massage to cultivate and circulate this energy.
Raindrop Technique©
Raindrop Technique© is a powerful, non-invasive tool for helping the body correct defects in the curvature of the spine. Raindrop Technique© originated in the 1980s from research Dr. Gary Young compiled while working with a Lakota medicine man named Wallace Black Elk. It integrates Vitaflex and massage, utilizing the power of essential oils to bring the body into structural and electrical alignment. Raindrop Technique© is said to have resolved numerous cases of scoliosis and kyphosis and eliminated the need for back surgery in thousands of people.
Reflexology
Reflexology is a bodywork modality in which defined points on the feet, hands or ears are stimulated, resulting in specific reflexive activity of the nervous system. It is thought that this pressure relieves blocked energy and allows the body to work more efficiently. In the 1930s, physical therapist Eunice Ingham refined foot reflexology to create the system we use today. The Ingham Method of Foot Reflexology is the focus of this class and is used to improve nerve function and blood supply to normalize body processes and relieve tension. This course utilizes lecture, discussion, demonstration and hands-on techniques.
Reiki I
Do you want a technique you can turn on immediately to create greater peace, relaxation, healing and well-being for yourself and others? Learn Reiki! Reiki translates into "universal life force energy" and is an ancient system of energy healing rediscovered in the last century. The word Reiki describes the energy as well as the system of use. In this class, you will learn the history and principles of Reiki, basics of the chakra system, Reiki hand positions and a variety of ways to use Reiki, including self-treatments and use with plants, animals and food. Hands-on work will include giving and receiving Reiki treatments. The class will culminate with each student receiving the Reiki I "attunement," a short ceremony that aligns you with the Reiki I frequency.
Reiki II
Building on the basic principles learned in Reiki I, Reiki II provides a forum for students to share experiences since receiving their first attunement. During this course, you will be introduced to the first three Reiki symbols, increasing your capacity for healing with Reiki frequencies. These symbols are used to focus and intensify the Reiki energy for greater healing of the physical, emotional and mental functioning. You will also learn how to perform long-distance Reiki healings as part of Level II training. The class culminates in the students receiving their Level II attunement, conferring to them the title of Reiki Practitioner.
Self Care
The physically demanding work massage therapy students and professionals do puts them at risk for musculoskeletal injury. But injury is not inevitable. This Self-Care course will give you the injury prevention and ergonomics strategies and tips you need to protect your health and safeguard your career.
Soft Island Touch
Learn a new way of providing deep relaxation massage inspired by the island traditions of Fiji and Tonga. In this soft touch massage, you will learn strokes using the hands, finger tips and forearms as well as variances to pressure, direction, rhythm and style that will prevent the client from anticipating where the therapist's hands are going next. The brain turns off and the client enjoys a deeper sense of relaxation. The addition of sound effects brings attention to the strokes, while the pauses encourage letting go of stress.
Thai Yoga Massage
Practiced as a duet, Thai Yoga Massage is a dynamic therapy that focuses on healing the body, mind and spirit. Counter-balancing and levering the recipient's body with your own, you will work with gravity, breath and directed touch to create a harmonious and therapeutic "dance" with the recipient that imparts physical vibrancy, grace and spiritual energy.
Tian Di Bamboo Massage
Learn a unique style of massage that touches the spirit of Wood, Fire, Earth, Metal and Water. This training course combines the Tian Di Bamboo Massage style with Chinese Cupping and Gua Sha! You will learn how to use bamboo Cho sticks to give a massage that generates healing, restoration and balance. Bamboo's outer walls are covered with silica (the same element that creates quartz crystal) and generate two important properties: Piezoelectricity and Pyroelectricity. Piezoelectricity is activated with pressure and Pyroelectricity with heat as we penetrate deep into the tissues. Tian Di Bamboo Massage will revitalize stale Chi and help dissipate stagnant blood and lymph as a result of accumulated toxins and poor circulation. It aids in deep tissue healing, muscle spasms and trigger points as well as lymphatic drainage and the elimination of toxins.
The Trager Approach®: An Introductory Workshop
This 2-day introductory workshop in the Trager Approach® will give you skills to dissolve tension that can be instantly incorporated into your massage therapy practice. The principles of lightness, softness and freedom will be explored with one-on-one exchanges in the context of standing, sitting and resting on a massage table. Transitioning from attention of self-care to the giving of a positive feeling to fellow participants will allow pause for meaningful and constructive feedback. As the body softens, lengthens and expands, the receiver can sense and integrate what it truly feels like to move naturally and free of pain!