Get the Skills to Be a Professional Phlebotomist in 8 Weeks*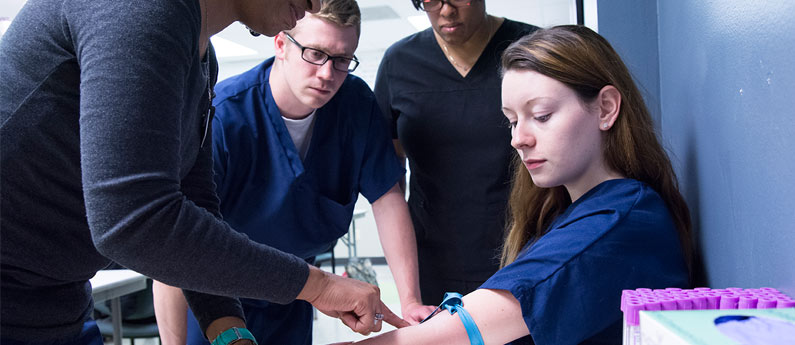 Become a Certified Professional Phlebotomist
The WellSpring School of Allied Health offers professional phlebotomy training at our Kansas City, Missouri campus.  However, effective July 1, 2016, we are only accepting applications from prospective students who meet at least one of the following criteria:
a) You are currently employed in the medical field and are seeking to diversify your skills, and/or to seek advancement.
b) You have prior experience in the medical field, say as a CNA, and wish to re-enter the field as a phlebotomist.
c) You have applied to nursing school or medical school, and are currently on a waiting list for admission, and you would like to gain experience as a phlebotomist in the meantime.
If you meet these criteria, we would be happy to consider you for admission into this program and to give you the career-ready skills it takes to move into a rewarding phlebotomy position in as little as 8 weeks.*
Phlebotomists (also referred to as a Venipuncturists) are highly skilled medical professionals trained to collect blood and other tissue samples for medical testing. At WellSpring, you'll receive guided hands-on instruction from experienced industry professionals in progressive phlebotomy techniques, using specialized phlebotomy equipment, and performing standard phlebotomy laboratory tests, including:
Capillary Blood Tests
Venous Blood Tests
Glucose Monitoring
Sedimentation Rates
Hemoglobins & Hematocrits
Blood Typing
Cholesterol Testing
Strep & Influenza Cultures
Urinalysis & Stool Samples
Specimen Collection, Preparation & Processing
Get Hands-On Training
Sure, you can get certified online, but then what?  You're certified but are you really qualified?  As a WellSpring phlebotomy student, you'll receive hands-on instruction in our medical laboratory within the interactive and supportive learning environment of our Kansas City campus. You will gain the skills, confidence and support to meet the growing demand for professionally-trained Phlebotomists.
Convenient Evening Schedule
We recognize the demands our students face. The WellSpring Phlebotomy Certificate Program offers  an evening schedule, so you can balance your career training with family, work, and other responsibilities. With classes just one evening and one weekend day per week and a low student/instructor ratio, our program maximizes personal attention and success.
Evening schedule: One evening and one weekend day per week. Program completed in 8 weeks.*

Embark on a Rewarding & High Demand Career
Ever-improving advancements in blood screening and growing rates of obesity, diabetes, and other health conditions have created a growing demand for Certified Phlebotomy Technicians. The US Department of Labor projects that national employment rates for medical and clinical laboratory technicians will increase 30% by 2022!
Phlebotomists provide critical services in hospitals, laboratories, physicians offices healthcare clinics, blood donation banks, and more. As a Phlebotomy Technician, you have the opportunity to make a positive impact on people every day.
"I was tired of the day to day job that would lead no where, working from paycheck to paycheck. I wanted a career in the medical field where I could help people and feel good about what I'm doing. At WellSpring, the instructors are knowledgeable and they really do care. They want you to be successful."
– Virgenia, WellSpring Graduate

Earn the Competitive Edge of Certification
While a phlebotomy certification is not mandated in all states, more employers are insisting on certification as a standard requirement for Phlebotomists; particularly for new phlebotomy technicians. As you progress through the career field into higher paying areas of employment, certification becomes a must have.
Graduates of WellSpring's Phlebotomy Certificate Program are eligible to sit for the Certified Phlebotomy Technician (CPT) exam, provided by the National Association of Health Professionals (NAHP).  WellSpring administers this official certification exam on-site, to provide the convenience for our students to do all their learning and testing at one facility.
Is a Rewarding Career in Phlebotomy Right for You?
Get More Info…
Discover whether a career in Phlebotomy is the right path for you. Fill out the "I Want Answers" form on this page to receive more information. Or call 1-877-660-0607.
A helpful WellSpring Admissions Representative is happy to answer all your questions and assist you with everything from scheduling to financial aid.
Performance Information and Program Fees
* Program length when completed in normal time.