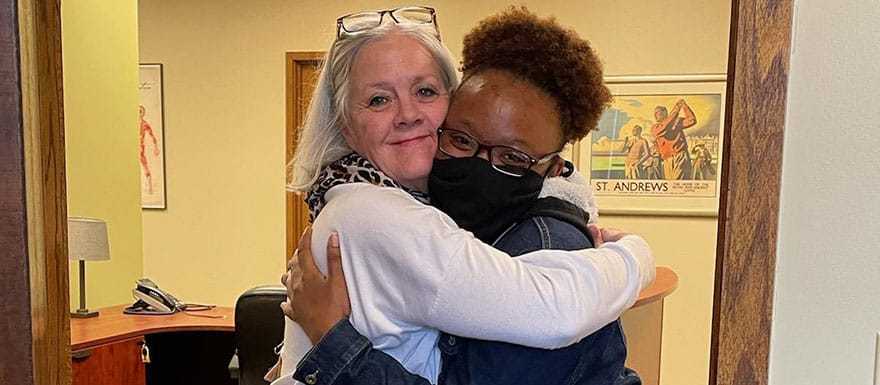 Well, it's been a long time coming for me during this whole nine months! Through all trials and tribulations, troubles with family, losses, not having a car, terrible sleep for a countless amount of months, anxiety, depression, and not much income… And with little to no support, I made it all the way through.
With the help of my peers, and the awesome administration staff from WellSpring, I was able to make it. I've spent countless days allowing things I cannot control to take over me, overall just not believing in myself… Not believing that I was worthy, not believing the greatness that was instilled in me through all of my experiences. It's been hell in this life to only be barely 20 years old!! I am the middle of six children, two of six to graduate high school at all, and the only one to go to college. I've been very independent and trying to make a stable life for myself and my family, it's been very rough doing feeling like you're doing it all alone.
But at WellSpring, I was welcome, assisted, and encouraged from the very beginning, and I wasn't alone. I never stopped trying to elevate, I never stopped trying to be the best that I could be at everything that I do… I never ever gave up trying to better myself and become the best woman that I know how to be. This program has enriched me in many ways I can't even explain! With my passion to care for others, my empathetic soul, and the thought in the back of my mind what Suzanne Harris said: "Failure is not an option"!
I was able to graduate and I am determined to be an outstanding Medical Assistant! No matter how tough things have gotten for me and have been, No matter how often I've been judged, and no matter how hard my home life has become, school was my outlet. Education has always been everything for me since I was a little girl and with Wellspring's support, I was able to make it the best me that I could be!
Shout out to my peers, Shanise, Daniela, and Aspen for giving me a hand in getting to school and keeping me up to speed; the ladies in administration Ms. Suzanne Harris, Jennie Urevich, Sara, Ms. Shelley and most of all, the best instructor I've ever had and one of the strongest women I know, BobbieJo. Thank you all and I love and appreciate each and every one of you from the bottom of my heart, you all gave me hope and twice as much strength and I'll never forget you.