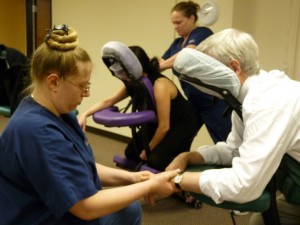 WellSpring School of Allied Health would like to extend a special thanks to the community for supporting our Best-Schendel Family benefit. Also, a special thanks to all the massage therapists and staff members who donated their time and efforts. We couldn't have done this without you.
Massage Envy & Edward Roberts of Roberts Auto Group also made very generous contributions of $1,000 each to add to the fund. That brings the total raised to over $4,000. We are continuing to plan more events in hopes to raise more money. Our amazing family of students keeps coming up with great ideas, and we will let you know when and where these will be held.
Again, our hearts go out to the family. Just remember, the WellSpring School of Allied Health family is here for you too.