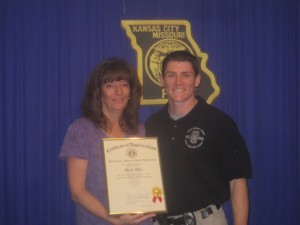 Congrats to Mardi Miller who was recognized with a certificate of appreciation by the KC, MO Police Department. We at WellSpring are so proud of her accomplishments, we wanted to share the nomination submission with you. If you pass Mardi in the hallways, give her a big congrats! Thanks for all you do Mardi.
Since my employment with the Kansas City, Missouri Police Department approximately 8 years ago I have been actively involved with the Department's Charity of Choice, Special Olympics Missouri (SOMO). In that time I have had the pleasure to work with Ms. Mardi Miller and the staff at WellSpring School of Allied Health. WellSpring is "a career school dedicated to the field of health and wellness, helping graduates create exceptional holistic careers for more than 21 years." I initially contacted WellSpring to get in touch with massage therapists that might be interested in volunteering at SOMO's Broadway Bridge Run 5 years ago. The staff was more than accommodating and supplied several voluntary massage therapists for the duration of the event. When it was time for the following year's Broadway Bridge Run, Ms. Miller and her staff did not hesitate when asked about their support of the event but instead asked "How many volunteers do you need?"
Every year Ms. Miller supplies upwards of 20 massage therapists for the annual event. Because of their great support of KCPD and the Special Olympics, WellSpring has also been asked to assist with other fundraising events hosted by KCPD. Again without fail, WellSpring has assisted with the KCPD CARE Golf Tournament, The Polar Bear Plunge and Challenge, and the Special Olympics Summer Games. Ms. Miller has also gone the extra step of sending volunteers to assist in the logistical components of most of these events. This was especially true on October 30th when Ms. Miller coordinated several volunteers to assist with the KCPD CrossFit Halloween "Throwdown" which benefited the Special Olympics. Ms. Miller and the staff at WellSpring supplied a seemingly endless supply of volunteers that assisted with numerous activities to include: free massages for athletes and fans, set-up the event, run a "spooky" house for children, and get participants of the competition to the right area.
Ms. Miller's generosity always seems to amaze me and has no end. She frequently keeps KCPD in mind for projects the school works on. In October of 2009 WellSpring began a clinical study on the positive benefits of regular massages. Ms. Miller needed a group of people to participate in the study and chose the police officers of KCPD as that group. The job of a Police Officer is indeed a stressful one and it was very thoughtful of Ms. Miller to think of KCPD's Officers as a group to study in the hope of reducing their stress.
I recommend WellSpring and specifically Ms. Mardi Miller both receive a Certificate of Appreciation from KCPD in recognition of their hard work and support of KCPD and the Special Olympics. If approved I recommend the Certificate of Appreciation be presented to WellSpring and Ms. Miller at the next available Awards Ceremony.
Respectfully Submitted, PO Matt Neal # 5010
DC Brisbin,
I am also on the Broadway Bridge Run Committee and have seen firsthand, the generosity of Ms. Miller and the WellSpring Company. I concur with Officer Neal and recommend Ms. Miller and her company be recognized with a Certificate of Appreciation. If approved, I also support the award be presented as part of a future Awards Ceremony.
Respectfully, Captain Daniel G. Gates #3869