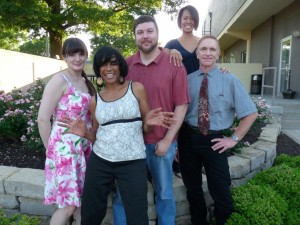 Graduation for the latest evening massage class was bittersweet last week. The entire class shed a tear about the fact that they weren't going to be spending time together anymore. The class had such a fun, supportive experience and became such a close-knit group of friends, they were like a family. We are going to miss each and every one of you.
Congrats on your achievements! The fact you all received an academic achievement (3.8-4.0 GPA) award is fantastic. Also, special congrats to Wayne Stout for receiving the Personal Achievement Award. This award is presented for demonstrating outstanding personal growth, confidence, technique, professionalism, attitude and dedication.

Congratulations again, we will miss you. Please don't be strangers.
From left to right: Cynthia Haynes, Sundra Nunley, Wayne Stout, Nescelle Caberto, Scott Jackson