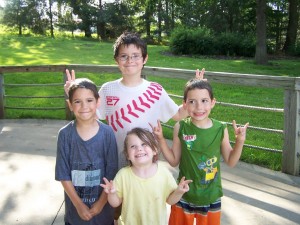 Who'd have thought that nearly losing my mom would take me on a completely different career path?  As it turns out, it was the kick I needed to move from crisis to career, and from business studies to massage therapy at Wellspring School of Allied Health.
I'd been a stay-at-home mom for 10 years, so I made the decision to return to school and brush up my skills. I had always wanted to attend college but never could decide what to study. But with four young kids and an unstable economy I figured I'd better do something. After all, I wasn't getting any younger, and I wanted to be a good example for my kids. I signed up for business classes at the local community college and settled in to earn my business degree. But fate had a different plan for me!
The Crisis that Created the New Career Path
Halfway through my first semester, my world turned upside down. On St. Patrick's Day, I discovered my mother at home not breathing. We rushed her to the hospital where the doctors and nurses told us she had suffered a severe stroke.  They said she wasn't going to make it, and that we should say our good-byes. The news devastated us. We didn't accept this answer. Our family and friends quickly gathered together and we began to pray.
I reached out to a couple of very good friends of mine that practiced different hands on healing modalities and reiki. I watched as these friends worked on her, and something amazing started to happen, Mom started to improve. Then a pattern began to emerge: every time the doctors would tell us she wasn't going to do something we would gather around her and use the power of touch to work on her and she would improve. At this point I had a friend turn to me and ask what I was doing in business classes when it was obvious that I should be helping people on their healing journey.
It was like a light went off in my head. She was right! I wasn't happy studying business. I truly wanted to help people. After a lot of soul searching two words came to mind, massage therapy. I just knew that studying massage therapy, I could do what I love and help people at the same time. This began my search for a new school. I quickly discovered that several schools offered massage therapy but they really only offered the cookie cutter minimum required to be licensed and that wasn't enough for me. I wanted the whole shebang, so to speak.
Finding the Right School at Wellspring
That was when I stumbled across WellSpring online. I did a lot of research in what they offered, how long they had been around, what they believed in, and how they really felt about their students. After touring the school and meeting everyone, I knew where I needed to be and it was at Wellspring. I immediately signed up and I haven't looked back since.
It has been just over a year now since this journey started. I am currently halfway through the massage therapy program here at WellSpring. My life is completely different, and I am completely different. My experiences here have been amazing. The instructors have really set us up to succeed. The classes fit perfectly into my life making it easy to balance all my responsibilities. The instructors have stood by me and supported me, knowing the struggles I have had at home with my kids and caring for my mom.
Appreciating the Power of the Healing Touch
There is no doubt in my mind that without the trial of my mom's stroke, I would never have understood and appreciated the power of the healing touch. And I certainly don't think I would be where I am today with this wealth of information, amazing new-found strength, and this deep passion to truly help others facilitate healing within themselves, like I have done.
Heather Heckroot WellSpring School of Allied Health Massage Student