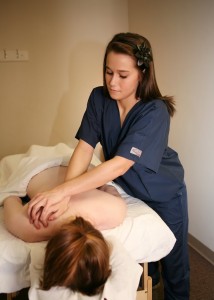 The clients that come to our WellSpring clinic LOVE our students, and the students love making a difference in people's lives!
Here is a few recent comments from clients after their massage:
"I have noticed a difference in my muscles since Peggy has been giving me massages. I will continue to request her services. She takes extra time to demonstrate stretches that will benefit problem areas."
"Tiffany has helped me SO MUCH in just two visits! She really puts her heart into her work. Thank you!"
"Very thorough, just the right amount of pressure. I was a mess! Tara was able to hit all the problem spots. She asked for feedback on whether the pressure was ok & taught some stretches afterward."
"Great Massage!! Came in with far more tightness than expected and left feeling so much better. Raleigh has great focus and does such a terrific job of staying with it until he reaches success…All the while being kind and gentle. He has a great combination going on!! Hope to see him again."
Have you had a massage lately? Check out the student massage clinic!