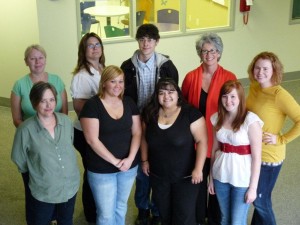 WellSpring announces our latest graduating Massage Therapy class. Congratulations to everyone, we are so proud of your accomplishments.
Back Row: Joy Hawkins, Tracy Torgenson, Justin Neely, Barbara DeVault, Sarah Ruhl. Front row: Linda Endicott, Angie Morrison, Tabitha Silva, Brittany Barlow. Not pictured is Teresa Shiflett.
The Personal Achievement Award went to Barbara DeVault. This award is presented for demonstrating outstanding personal growth, confidence, technique, professionalism, attitude and dedication.