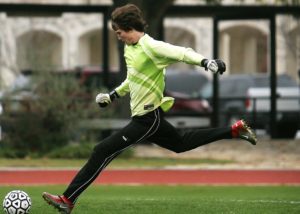 When it comes to athletics, it has evolved almost as fast as technology. Comparing the athletes of today to even a decade ago, they are faster, stronger and a thousand times better. This is due to numerous resources available over training, nutrition, biomechanics.
But, leave it to massage therapy, a treatment that has been around since the stone age, to be the resource athletes have overlooked.
Only recently, athletes have been taking full advantage of all the benefits of massage therapy. But how exactly is massage therapy helping with athletics, besides getting those horrible knots out of muscle tissue?
Massage Therapy Provides Unique Benefits
People often forget that the muscle tissue is a key component to structural balance within the body and have to be tapped into in order to achieve long term improvements. This is where the massage therapist come into play.
Along with structural balance, massage therapy can help immensely with the following:
speed recovery

reduce muscle tension

help athletes monitor muscle tone

promote relaxation

reduce muscle hypertonicity

increase range of motion

improve soft tissue function

support recovery from transient immunosuppression state

support the recovery of heart rate variability and diastolic blood pressure after high-intensity exercise.

Decrease muscle stiffness and fatigue after exercise

Improve exercise performance

Decrease delayed onset muscle soreness

Be the most efficient intervention for maintaining maximal performance time in subsequent exercise tests when combined with active recovery from maximal exercise

Reduce serum creatine kinase post exercise

Reduce swelling

Reduce breathing pattern disorders

Enhance athletic performance

May help prevent injuries when massage is received regularly
List provided by recent studies cited by American Massage Association.
Massage therapists can also perform kinesiological testing on athletes to evaluate and identify the most beneficial therapy. Being involved in the athlete's regular training program will allow the therapist to see how the treatment is working and affecting strength and function, along with overall balance, according to Massage Today.
In addition to structural improvements, massage therapy also deliver vast benefits to the cardiovascular system, according to Health Fitness Magazine. The massage helps encourage blood flow and circulation, which results in the helping the processes of pain relief, muscle growth and and recovery. The therapy treatment will also promote the athlete's sleep cycle and relaxation level. This will improve the athlete's overall well-being and will provide a positive head space while they perform.
One understanding about massage therapy for athletes that we need to acknowledge is that these are not the feel-good massages. These are deep tissue massages, that are targeted, deep tissue massages. There are pre-events, intermediate, and post-event massages that will help the muscles overall function and health, as stated by Health Fitness Magazine.
Whether you are an amateur or a professional, massage therapy might be a treatment to look into for improvements in your physical performance.
Interested in a Career in Massage Therapy?
WellSpring delivers a unique massage therapy program, that keeps our students on the cutting edge among professionals. Our massage therapy students are informed and equipped to provide a vast range of benefits to all those in the community. If you are interested in a career in massage therapy, visit WellSpring or call us at 866-443-9140.