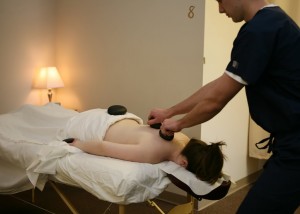 Add another benefit to the long list of reasons to get a massage: weight loss. According to new research, reducing one's stress might also reduce one's pant size.
A new Kaiser Permanente study found that people trying to lose at least 10 pounds were more likely to reach that goal if they had lower stress levels and slept more than six hours but not more than eight hours a night, according to a Kaiser press release.
Many other studies have shown massage therapy induces relaxation, reduces pain and creates well-being, while it also reduces stress and depression and improves sleep patterns.
At WellSpring School of Allied Health you can take advantage of the student clinic, which offers massages for reduced rates. Or, if you prefer, you can learn these techniques in one of our community classes.