On the front lines of patient care, a Medical Assistant is one of the most rewarding and challenging professions out there. This International Nurses Day, we're proud to celebrate the hard work and commitment to patients these incredible professionals exhibit every day.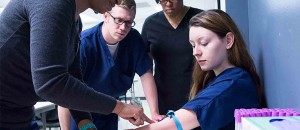 From greeting patients and taking vital signs to recording symptoms and administering medications, nurses are a critical part of any medical facility.
But what are the differences and similarities between Nurses and Medical Assistants?
Both must comply with HIPAA, CLIA, OSHA and JCAHO regulations. Both play critical roles in patient care.
Medical Assistants work mostly in medical offices and are certified to do much of what RN's used to do, including drawing blood, taking vital signs, working in the medical lab, assisting doctors with in-office medical procedures, and even working the front-office. They help their patients smile again and sometimes can answer patient questions in ways a doctor can't.
Medical Assistant often are triple-certified, with training including Phlebotomy tech, EKG tech, and registering as a Nationally Registered Medical Assistant (NRCMA).
While the demand for skilled medical assistants and nurses is great, several countries around the world are experiencing an alarming shortage of registered nurses. The U.S. Bureau of Labor Statistics estimates that in many ways the demand for nurses is higher than it's ever been and that demand will increase consistently for many years to come.
If you're thinking about a career as a medical assistant, know that while the demands are great, but you will not find a more rewarding and challenging job that positively impacts the lives of others.
Consider one of our healthcare training programs and join the WellSpring family.