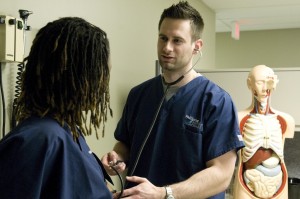 As the current U.S. Baby Boomer population continues to age and require an increased level of medical services, jobs throughout the medical field are on the rise, including medical assistant jobs.
According to labor statistics, the demand for medical assistants is expected to continue growing until 2018.
While medical assistant training was not always a necessity to obtain a job in the industry, today it is almost a prerequisite. In today's hectic medical care environment, medical assistants play a key role in supporting the everyday operations of physicians' offices. Typical responsibilities include setting appointments, bookkeeping and simple accounting, managing medical records, administering medications, prepping patients by taking their vitals, handling laboratory and diagnostic procedures, and assisting in simple surgical procedures.
People who attend school to become a certified medical assistant have a greater selection of employment opportunities and an increased level of salary potential than those who do not.  To learn more, check out WellSpring's Medical Assistant program or give us a call at 816.523.9140.