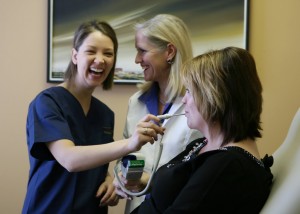 Have you been thinking about a career in the medical field, but not sure where to start? WellSpring School of Allied Health, of course! And here is why …
You receive comprehensive training in:
Medical Billing & Coding
Clinical Science
Office Management
Consultation Skills
WellSpring not only educates, but also specializes in integrative health, which increases your marketability in the field.
Emergency Medical Procedures
CPR & First Aid
Injections
Blood Drawing and Analysis
Medical Billing and Collections
Minor Surgical Procedures
Externship
Upon completion you can earn:
CCMA – Certified Clinical Medical Assistant
You can also earn 2 additional certifications while taking classes! Giving you the edge.
CPT – Certified Phlebotomist Technician
CET – Certified ECG Technician
And how's this for job security: it's a growing field.
According to the U.S. Bureau of Labor Statistics, employment of Medical Assistants is expected to grow 34 percent from 2008 to 2018, which is a much faster rate than the average for all occupations in the U.S.*
150,000 additional jobs are expected to be added to the field, thanks to an expanding healthcare industry, technological advances in medicine and an aging population*
We also offer career assistance!
Take advantage of our Career Services team. Our graduates work in hospitals, physicians' clinics, specialty practices, home healthcare centers, outpatient facilities, diagnostic imaging centers, medical insurance offices, nursing care facilities, and other healthcare settings.
If you or someone you know needs the competitive advantage of healthcare training, request information and we will be happy to give you a tour of the school and answer any of your questions.
*National averages