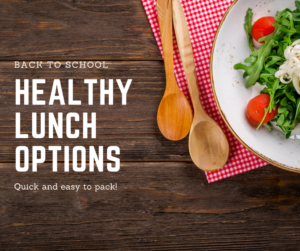 Parents of school aged children across the country are accustomed to the morning routine of packing a school lunch. While it's convenient and easy to throw in the classic chips, sandwich and cookie, that isn't always the healthiest option for your child. Believe it or not, there are healthy options for school lunches that are easy and quick!
It's important to feed your children with food that fuels their mind and body so they can learn their best. The Advocate says that packing a school lunch for your child is like walking a tightrope: Balance is crucial.
Wrap it.
Wraps are an easy way to combine healthy ingredients. Try using a whole wheat tortilla, instead of flour, and include turkey, spinach, tomatoes, tuna or hummus. Try out a few different kinds and combinations to learn what your child enjoys most.
Boil it.
Pasta salads are quick and easy to make healthy. Whole wheat pasta is an easy swap for a better option, plus you can add loads of veggies. Throw in a protein like turkey or chicken to help keep your child full. Bon Appetit has a delicious recipe for a Broccoli Pesto Pasta which makes two servings and won't disappoint!
Stack it.
Kabobs are quick and you can add a variety of healthy ingredients. Try a deli meat and cheese kabob. Pick the cheese and meat your child prefers and then add some veggies to it. Cucumbers, bell peppers and cherry tomatoes are easy options. Pita bread and hummus is a good side option for a kabob, too.
If nutrition is something that interests you and you want to help others find a more nutritious lifestyle, learn about our Nutrition & Wellness program. This interactive program is led by fitness, nutrition and wellness experts who are dedicated to training the next generation of health and fitness educators. The program will enable you to become a well-rounded nutrition and wellness professional. Learn more: http://bit.ly/2wQ34Ex