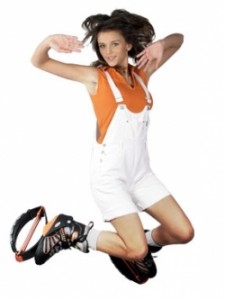 Oh my! While searching for some new workouts, we came across these:
Bellyfit: Wow, the workout session starts with mediation then a warm-up sessions and cardio. Finally, different steps from belly dancing, Bhangra as well as African dance. This mixture of these workout is further completed with Pilates movements and exercises as well as stretching workout which is inspired by Yoga. The workout is finished up with another meditation. Something new and it sounds like a great workout for those who get bored easily.
Aerojump: Aerojump is another exercise plan that launched a real craze in Hollywood. The professional boxer Michael Olajide' Jr. came up with the idea of a similar plan which works in the tradition of rope jumping to workout songs that would boost your mood and energy on the spot. The program promises no less than 450 calorie burning in only 10 minutes. Of course, this is highly dependent on your fitness level and weight.
Piloxing: This is workout plan that combines features of Pilates with boxing. The soft and relaxed moves of Pilates are combined with strength training that aims to tone our core and provide us with more flexibility and better posture. Air punches as well as tummy-strengthening and toning exercises serve as the best means to polish your figure and additionally you'll use weighted gloves to further increase the intensity of the workout. Kicks and leg swings are also no strange things for those who decide to adopt this trend. Piloxing sounds pretty hard-core!
Kangoo Jumps: What? Not certain where this trend is taking off, but to the best of our knowledge not KC. One is expected to strap on Pogo shoes and go jogging or attend an exercise class for this workout. Enough said, the image is too much to handle.
Let us know if you have tried any of these and what your thoughts are.