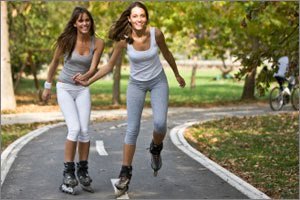 Let's celebrate the great weather; we deserve it after last winter! Here is a quick low-down on outside activities you can do and the number of calories you can expect to burn in 30 minutes. Our calculations are based on a 150 lb. female, so please take this into account. If you weigh more, you will burn more, and you will burn fewer calories if you weigh less.
Gardening – 150 calories
Running – 393 calories
Shopping – 126 calories
Volleyball – 102 calories
Climbing Stairs – 525 calories
Basketball – 270 calories
Rope Skipping – 363 calories
Soccer – 276 calories
Swimming – 360 calories
In-line Skating – 563 calories
Ultimate Frisbee – 360 calories
Cycling – 380 calories
Water Skiing – 270 calories
So get out there and enjoy some outside activity before this Kansas City weather heats up too much. Enjoy!