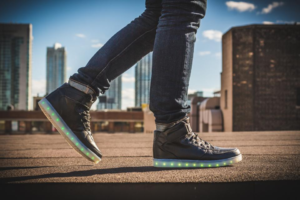 Step outside, look around. What do you see: Grass, trees, houses, buildings, sidewalks?
Did you know all the elements of your environment and community play a huge role in the status of your health? Surprisingly, our surroundings actually influences our well being more so than going to the doctor. Where you reside affects the decisions you make about your health, according to the Centers for Disease Control and Prevention. Commonly, people say the hardest step in fitness is the first one out your door. However, the subsequent steps may be increasingly difficult depending on your where you live.
What is Walkability?
Your built environment is what ultimately distinguishes the walkability of your neighborhood.
Walkability involves the conditions of the sidewalks, design of the street grid, land use, safety, connectivity and proximity of nearby amenities. You can find the walkability score of your city at Walk Score. "Walk Score uses data from Google, OpenStreetMap and the U.S. Census to assign any address a walkability ranking from zero to 100 based on a its pedestrian friendliness and distance to amenities such as grocery stores, restaurants, public transit and the like," cited City Lab.
Walkability and Your Health
Walkability does not only improve your physical health, but also provides cognitive benefits. Results from a research study conducted by the University of Kansas, concluded that walkable communities improve cognitive sharpness. Amber Watts, assistant professor of clinical psychology, said, "There seems to be a component of a person's mental representation of the spatial environment, for example, the ability to picture the streets like a mental map." Therefore, it exercises cognitive functions and helps with the decline of cognitive health.
Kansas City Trails
The Kansas City area scored 10 out of 20 by Walk Score. While there is definitely room for improvement, we do have a numbers of trails accessible.
The 79th Street Path, located in Lenexa, is an easy one-miler. The trail can be used for inline skating, walking, cycling and is wheelchair accessible. The trail pathway leads to recreational amenities and weaves through residential areas. If the one-mile distance isn't enough, the trail connects at both endpoints. The western outlet continues onto the Shawnee Mission Park Paved Trail or the eastern end enters Lackman Park.
The 133rd Street Path provides you with a longer route. This 7-mile trail paces through Olathe, Overland Park and Leawood. The trail also meets the Switzer Road Trail, the Tomahawk Creek Trail and the Nall Avenue Path. Pick a different section of the trail every time for a multiday endeavor. The trail also travels by commercial center, parks and recreational complexes.
Kansas City's Amourdale Levee Trail is another great option to explore. This trail offer the public an unpaved route along the Kaw River levee. A 1.3 mile journey starts with industrial surroundings that leads to a more natural landscape. The trail can be used for walking, as well as, mountain biking.
Want A Career Investing In the Health Of Your Community?
If this topic and other health-related issues interest you, look into a care serving your community through healthcare. At WellSpring, we invest in our community along with our students. If you are interested in a career in the health industry, visit WellSpring or call us at 866-443-9140.