Summer weather, for the most part, is fabulous. From spending time outdoors to vacationing with friends and family, it truly is one of the best times of the year. How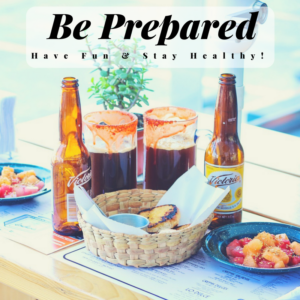 ever, all of the cookouts and beer may cost you that trim waistline.
We know missing out on activities with friends and family is not an option, but throwing the towel in when it come to your health and nutrition goals isn't either. Thankfully, you can say yes to the good times and, at the same time, maintain your healthy lifestyle.
In recent years, many restaurants have added healthier options to their menus including low calorie, gluten free, vegetarian and smaller portions, allowing diners make more informed decisions when ordering their food. However, if you find yourself at a restaurant that doesn't provide a menu with healthy options labeled, here's what you can do to help ensure you select the best foods possible.
Be Prepared
Take a look at what the restaurant has to offer and decide what you'll order in advance. This will mitigate the potential for an impulsive or uninformed decision. If you check online, most restaurants provide an online menu and nutritional information. By doing your restaurant homework, you'll be able to take the guess work out of ordering.
More tips from the Academy of Nutrition and Dietetics.
Don't Be Afraid To Be Picky When Ordering
When it comes to ordering, you're the customer and restaurants are there to serve you! Don't hold back from customizing your plate. If it comes with a side of fries or mashed potatoes, swap it out with another item, like vegetables. Even the fried foods, most of the time, can be grilled instead. Do the entrees look too large? Ask if it can be substituted for a smaller portion.
More tips from Stealth Health and by Editors of Reader's Digest.
Take the To-Go Box
There's no reason to opt into the clean plate club. When your food arrives, immediately ask for a to-go box. Why? Because you can keep the appropriate portion on your plate and put the rest away for later. This trick will help keep you from overeating. And even better, you'll have another meal for later in the week.
Enjoy your summer with friends and maintain your healthy lifestyle. Go out to your favorite restaurants and know you can stay on track with your health goals with these tips.
Making Nutrition a Career
If a healthy lifestyle is something you've been passionate about for a long time and nutrition is one of your top priorities, then maybe you'd like to help guide others with healthy lifestyle changes. To jumpstart your career in Nutrition and Wellness Coaching, visit WellSpring online or call us at 866-443-9140 today!