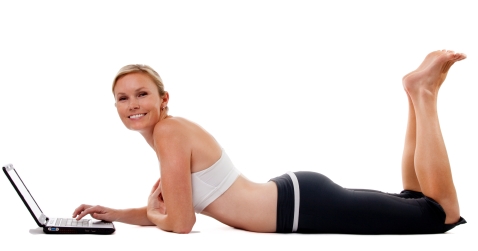 When you consider the avenues to studying for NASM certification you'll want to think about your end goals first. Are you looking to expand your own knowledge?  Is this a potential career path you want to pursue? Would you like to work under supervision, or would you rather have your own business?
National Academy of Sports Medicine Certification is valuable if it's a career you want to pursue; it demonstrates your knowledge in a wide range of areas key to personal training. However, certification alone doesn't give you everything you need to work with others as a personal trainer.  Let's look first at your certification options, and then at why Wellspring is the first choice for many students who have already certified online or with a different program.
NASM – a Respected Certification
In the United States, you have a choice of three fitness certifications, with varying levels of difficulty and  emphases.  The American Council on Exercise (ACE) offers a variety of certifications, as does the American College of Sports Medicine (ACSM).  Some fitness professionals feel that both the NASM and ACSM offer rigorous standards, while the ACE is a bit easier to attain. In addition, the ACSM emphasizes working more with high performance/elite athletes. The NASM certification takes a broader approach for those who want to work with members of the general public who would like to improve their health. NASM is known to work from a strong foundation of "Stabilization", followed by "Strength" training. Finally, trainers elevate experienced and fit clients to the "Power" level of an athlete.
At Wellspring, we recognize that Americans are in real need of fitness education and training. Many people start fitness programs at first the sign of trouble in their health, such as diabetes, hypertension, or respiratory problems.  The NASM program focuses on conditioning fitness clients to overcome these health problems, and doing it in a safe manner.  You will learn exercise techniques, anatomy and physiology with textbooks, videos, quizzes and case studies  However, there's no requirement for hands-on experience with real people before you sit the NASM exam.
A Holistic Approach to NASM Certification
Many of our students have come to us after taking an online course or a quick certification program. They have the paper, but they feel unqualified to step out with confidence in their new career. At Wellspring, we apply the book knowledge to real-life situations, creating fitness programs and supervising real people. Fundamentally, we give you the confidence to enter a gym with clients, knowing that you are going to create a program tailored to their needs. On top of that, we teach you the business sense you will need to build a roster of loyal clients. We also give you the important communications skills that you will draw on with every client visit – and after sick days and vacation days, too.
You could be a certified personal trainer who wants a holistic approach to their profession. Or perhaps you are considering personal training and wellness for the first time. Either way, Wellspring offers much more the textbooks, so you will have the experience and well-rounded knowledge to compete with the best. You can choose from a Certificate in Personal Training and Wellness, or an Associate Degree in Fitness and Nutrition Coaching. Thanks to our top-quality, people-centered instruction, you are enrolling with the best.