Allen Nails is tall and athletic with a bright, friendly smile.  
He is currently enrolled in Wellspring's Personal Training Program. He's a good student, boasting straight A's and perfect attendance.
Recently, Allen had a transportation problem. His car was wrecked and he could not find a ride to class. Many students would have, understandably, missed school that day. Allen made the decision to run the five miles to school in the rain. He arrived on time for the first day of Endurance Training, a running class.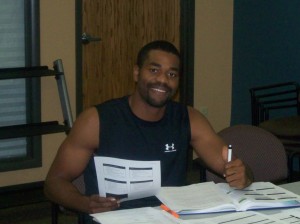 Allen Nails, Personal Training Program
Allen played football in high school and planned to play in college with thoughts of playing professionally later. He was injured during his senior year and suddenly needed new goals.
"For the longest time, I 
didn't
 know what I wanted to do with my life," he says. He tried to figure it out with the help of counselors, while working steadily at a Hy-Vee. He knew he was good at math, science, and sports. "I wish someone would have told me early that I could get a degree in
sports
."
Now 24, he's been in the Wellspring CPT program since April. He says he enjoys getting a workout in class, the convenience, and friendly staff at the Kansas City campus. How does he get along with the other students?
"I love my classmates!" he says, laughing. He's energetic and his positive attitude is highly contagious. It 
wasn't
 surprising to learn from one of his instructors that they love him, too.
"He's a really dedicated and intrigued student," says Tracy Moeller. "He asks great questions about the material so that he can apply it to real life. He wants to be able to help others. That's why he's in the field. He's a motivator, I think, for his classmates. They compete for who can get the highest grade."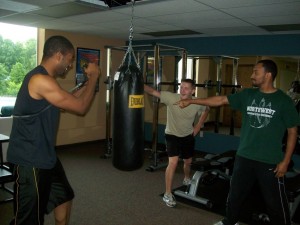 Allen (left) with classmates Ben and T.J.
She also said that he studies hard and is known to read ahead prior to the start of a new class.
In just a few short months, Allen will be a certified Personal Trainer, Corrective Exercise Specialist, and Fitness Nutrition Specialist. He plans to major in Kinesiology later and eventually run his own business. With his enthusiasm, fantastic attitude, and high motivation, he's sure to accomplish everything he puts his mind to and touch a lot of lives along the way.