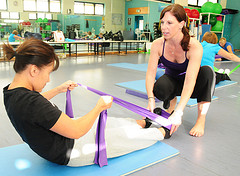 The The International Health, Racquet & Sportsclub Association (IHRSA), recently released a list of health club trends for 2011. Some might surprise you, and it's good news for our personal-training students!
Trend 1: Clubs and Trainers are Providing More Age-Appropriate Offerings. From specific programming and certifications for exercisers over 55 to youth programming, clubs will offer more age-specific options. There is also a growing trend for sports-specific training for children from elementary school on up. This trend is popular because while not every child will become a top athlete, this training helps boost confidence in all areas of life, and helps some youth to be better athletes in their chosen sport(s). Also, due to the obesity epidemic in children, more clubs, training programs and equipment will continue to be designed around children's unique fitness needs.
Trend 2: Cross-promotion with Non-Club Activities & Niche-Specific Facilities. Health club members are very active, using their clubs an average of 102 days per year, and they also participate in a variety of sports activities outside the club.Therefore, club operators and fitness professionals are increasingly offering workshops on functional training for sports such as tennis, training for triathlons or marathons and skiing. Also, more clubs are taking those programs even further and specializing as a niche business (ie. boxing, rock climbing and mixed martial arts based clubs).
Trend 3: Equipment trends from the ancient to the cutting edge. What's old is new again: Kettlebells, originating in Russia in the early 1700s, have exploded into both the club and home fitness markets as they have proven to be very effective for building strength. Also vibration equipment: Exercising on a platform designed to vibrate at very high speeds is a hot trend that club operators and trainers were among the first to embrace. Then there's "human-Power:" There is a rapidly growing number of health clubs and cycling studios, where the cardio equipment is specifically designed to not only not require electricity, but to actually produce electricity as members exercise. The electricity generated is enough to at least partially offset the power required to run the televisions, fans, lighting and HVAC. This ties into the over all move towards "greener" business practices that many health clubs have adopted.
Trend 4: The Rise of Wellness Programming. Multiple research findings point to the need for and rise of wellness programming. Seventy-three percent of US consumers consider being physically fit important to being 'well.' According to The Economic Benefits of Regular Exercise, an IHRSA publication, researchers have found that the return on investment among companies that offer wellness benefits ranges from $1.49 to $13 for every dollar invested. Wellness-oriented services in both the health club and the workplace are proven to help address consumer health goals, reduce the impact of obesity rates, and improve business profitability. Wellness programming initiatives and services include partnerships with local health care providers, workplace wellness facilities, personal training for special medical populations, and nutrition coaching for the overweight/obese exerciser.
Trend 5: Group Exercise Programming is Experiencing Phenomenal Growth. Group exercise, both traditional aerobics and unconventional new classes, are as popular as ever among health club members. Group exercise classes with the largest growth rates are cardio-kickboxing, yoga, high-impact aerobics, dance style classes and strength training classes.
Trend 6: The Evolution of Personal Training. In 1999, 4 million Americans were using personal trainers. Now that number hovers around 6.5 million. Once thought of as only for super-rich, one-name celebrities such as Cher, Madonna and Sting, now personal training is the most commonly offered program in clubs, with more than 90 percent of all clubs offering personal training of some kind. The main factor for growth, even in the recession, is the trend away from one-on-one training towards small-group or semi-private training to increase the fun level while mitigating expenses.
Exciting stuff!
Photo courtesy of familymwr on Flickr.