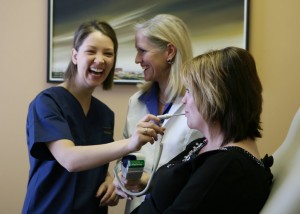 You've heard the line again and again: "Do what you love and success will follow." That's why we love our jobs at WellSpring School of Allied Health so much. Not only are we doing things we love every day, but we are helping others live their dreams as well. Sound mushy? Well it is, and it's the truth. A day in the life of teaching students to do something they love and get paid for it, is, well, amazing!
What in your life is amazing right now? Are you doing what you love and are you spreading the joy? Our graduates are spreading the joy through massage, healthcare, and fitness and being that person who helps bring happiness to people's days. Check out this video on YouTube, it is very inspiring and might just help you get out of your comfort zone and make the changes you need to live your dreams. Sure it says 2010, but the message is ageless. Carpe diem.
Photo of Medical Assisting classroom.