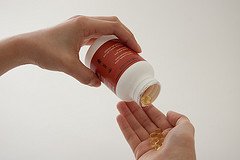 A few months ago, we pondered if vitamin D was a cure-all and now new research is strengthening the validity of that question. Scientists at the University of California, San Diego School of Medicine and Creighton University School of Medicine in Omaha recently stated that, based on their research, markedly higher intake of vitamin D is needed to reach blood levels that can prevent or markedly cut the incidence of breast cancer and several other major diseases than had been originally thought. The findings were published in the journal Anticancer Research.
Researchers found that adult daily intake of vitamin D in the range of 4,000 to 8,000 IU are needed to reduce by about half the risk of several diseases, including breast cancer, colon cancer, multiple sclerosis and type 1 diabetes. Right now the recommended minimum intake of vitamin D is 600 IU a day. While these levels are higher than traditional intakes, they are in a range deemed safe for daily use, according to a December 2010 report from the National Academy of Sciences Institute of Medicine. However, always consult your doctor when adding any new supplement to your diet.
Are you surprised by this vitamin D news? Will you try to up your intake?