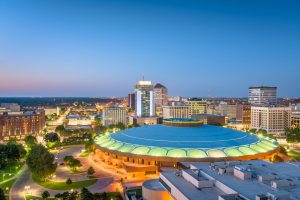 Aspiring massage therapists will be excited to learn that a nationally recognized massage therapy program is now offered in Wichita. Massage therapy programs have long been scarce in the area, but the WellSpring School of Allied Health seeks to change Wichita's educational landscape. With over 30 years of history in Kansas City, Lawrence, Springfield, and now Wichita, WellSpring has established itself as a leader in allied health education. Read on to discover if WellSpring's new massage therapy program in Wichita may be a good fit for you!
A Tradition of Excellence
The WellSpring School of Allied Health has been recognized by a variety of industry leaders. In 2013, WellSpring earned one of the first Excellence in Education Awards from Massage Envy, the largest employer of massage therapists in the United States. Over the past ten years, WellSpring's instructors have also continually been featured in publications such as Massage Magazine. Even so, WellSpring's commitment to excellence does not stop in the classroom. WellSpring is committed to giving back to the community at large, and in 2010, the school proudly received a BIOTONE Community Outreach Award for their work with the Kansas City Police Department.
Flexible Program Offerings
In addition to high-quality career education, WellSpring provides massage therapy programs that meet the unique needs of its students. For those who are anxious to begin their careers, WellSpring offers a massage therapy certificate that can be completed in as little as 11 months with a full-time course load (two full days per week, or four evenings per week). Alternatively, those who wish to perfect their craft have the option of completing the Master Massage Therapist program, which awards graduates with an Associate in Occupational Studies degree. Students in this program acquire highly specialized skills, such as certification in corrective exercise techniques, that prepare them for careers in healthcare and athletics. Furthermore, both the certificate and the associate degree programs can be completed in either the day or the evening, so students can finish their education while working or raising a family.
Career-Ready Training
Regardless of which massage therapy program you choose to pursue, you'll leave WellSpring prepared for the working world. WellSpring's programs emphasize hands-on learning, and they are highly respected throughout the massage industry. The school's graduates have gone on to work everywhere from traditional salons and spas to fitness clubs, hospitals, chiropractic offices, and rehab centers, as well as with professional athletic teams. WellSpring is also committed to helping licensed massage therapists extend their practice through continuous education.
Enroll in a Nationally Recognized Massage Therapy Program in Wichita
If you are interested in learning more about how to complete a massage therapy program in Wichita, contact Lori Sisk at (316) 618-6250 to arrange an interview at WellSpring's Wichita campus. Classes are filling up, so it is best to reach out as soon as possible.