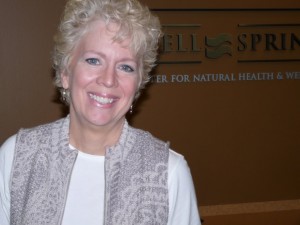 Being single again for the first time in 32 years, and searching for a new career path at the age of 53, was what led me to become a student at WellSpring School of Allied Health.
I wanted to pursue a career that I could be passionate about and one where I could financially support myself. I had incorporated wellness and nutrition to improve my own health. So it seemed natural to choose a field where I could help to improve the lives of others' health as I had mine. After treating myself to a massage during a stressful time, I commented casually to a friend that I could become a massage therapist. Three months later, I was actively pursuing that idea. I decided to leave the comfort of my small town job, and familiar surroundings and friends to pursue that goal.
I searched Kansas City schools online that offered massage therapy programs. WellSpring was the first of three schools that I toured one November day. Upon entering WellSpring, I experienced an instant feeling of calm and welcoming energy, just as I would expect to feel upon entering a salon or day spa for a massage. I toured two other schools that day, but my heart kept tugging me in the direction of WellSpring. This school offered everything I was looking for; small class size, good student to instructor ratio, friendly helpful staff focused on the students and a primary school focus on health and wellness. Where other schools seemed to take a business-like approach to learning, WellSpring felt like a family helping their students to grow. I started classes as a massage therapy student less than two months after my first visit.
From day one, my experience at WellSpring has been more than I expected. The instructors and many of the staff are massage therapists actively working in the field. They teach us with a hands-on approach; lending their expertise to guide us, yet allowing us individuality to develop our own styles. The classes are well planned and will completely prepare me for a successful career as a massage therapist. The staff encourages and supports our goals and will guide us as we finish school and search out employment. They also support the therapist after placement by offering CE classes.
My classmates and I come from diverse backgrounds and from all age groups, yet we have become like family and WellSpring is where we all feel "at home". The support and encouragement that we give to each other is priceless and it will carry us through as we become colleagues. Once inside the doors of WellSpring, there was never a doubt that I made the right decision to leave my comfort zone and pursue a career in massage therapy here. A saying on my bedroom wall reminds me each day to keep focused on my goals: "Create- your world is as big as you make it." Trust me…you can make it as big as you choose at WellSpring!
Deanna Finical, current WellSpring massage therapy student